A woodworking shop started in a residential garage in East Lawrence nearly a quarter century ago will soon build upon its legacy by opening a $1.2 million cabinetry shop.
Tolar Cabinets, started by Terry Tolar in 1977, breaks ground April 1 no joke on a 14,000-square-foot shop at the company's current location at 23rd Street and Haskell Avenue.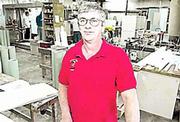 The exiting shop is so small, Tolar has had to turn away business, and that's never good for the bottom line.
"We're maxed out in our current space," he said. "That's going to change."
Tolar said the facility should be finished in September.
He said he was excited about expanding the company's involvement in residential and commercial construction and remodeling. Much of the company's business involves laminated cabinetry.
The new building should trigger acquisition of more sophisticated, efficient and expensive woodworking equipment.
"I've been in this business for 25 years," Tolar said. "It's time to get after it."
Tolar also said improved shop space should permit the company to concentrate on more jobs outside Lawrence. About one-third of Tolar Cabinet's business is for out-of-town clients, he said.
"The new shop also will have a showroom," Tolar said.
A display area has always been a goal, he said. The shop is near one of the busiest intersections in the city.
Tolar's first career choice wasn't cabinet making; he wanted to be a librarian. He had degrees from Kansas University and the University of Missouri, but couldn't find a job in Lawrence.
He had acquired basic woodworking skills making furniture for his home, so he began working for Custom Cabinets in Lawrence to pay the bills.
He stayed with Custom Cabinets about 18 months, then opened his own shop in a two-car garage in 1977 at 827 Garfield St.
His partner for six years was Jo Andersen, who went on to serve as Lawrence's mayor.
In 1983, Tolar put down $45,000 for the current shop and 1.2 acres at 23rd Street and Haskell Avenue.
Money was so tight, he initially leased one-third of the 3,000-square-foot shop.
In the 1970s and 1980s, the company focused on remodeling projects. Expansion into the commercial market occurred in the late 1980s, which also marked the point at which the shop made the odd conversion to metric.
"We talk to people in feet and inches and build in metric. It's much easier and (we) make fewer mistakes," Tolar said.
Tolar, 53, said he wasn't anxious about investing an enormous sum of money in a new building, because the cabinet business in the Lawrence area had been steady during the past two decades.
The shop hasn't had a layoff since 1979, he said.
"We've been through two significant recessions since then. People think it's a big risk, but we don't see it as a gamble," Tolar said. "We work 12 months a year and never slow down. The outlook for Lawrence is for tremendous growth."
When he does take a breather, Tolar said he competes in tournament bridge. He expects to reach master status by the end of the year.
He has another hobby, which gets into his other building project this year. Tolar is a serious, amateur astronomer. If given a second chance at a college education, he said he would earn a doctorate in astronomy.
"I love it," he said. "My plan is to build an observatory."
Copyright 2018 The Lawrence Journal-World. All rights reserved. This material may not be published, broadcast, rewritten or redistributed. We strive to uphold our values for every story published.