The Chi Omega house inspired Lorie Doolittle-Bowman when she was a member of the sorority and an architecture student at Kansas University.
Thursday, her Kansas City architecture firm, Theis Doolittle Associates, along with the Chi Omega sorority, were honored for maintaining the house's historical character. Doolittle-Bowman is president of Theis Doolittle Associates.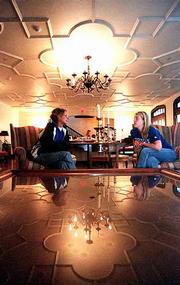 Chi Omega and Theis Doolittle Associates received a Kansas Preservation Alliance 2001 Award for Excellence for their rehabilitation of the sorority, 1345 West Campus Road. The groups were feted Thursday night at the Wichita-Sedgwick County Historical Museum.
The $1.5 million rehabilitation focused on preserving significant architectural features, including the stabilization and repair of first-floor plaster ceilings.
The project also included extensive woodwork restoration, the return of doors and other elements to their original design and installation of a new fire-protection system.
The Jacobethan Revival-style mansion, now listed on the State Register of Historic Places, was designed by architect Walter E. Glover in 1925. Jacobethan style is a blend of Jacobean and Elizabethan architecture.
"He wanted to create a sorority house that defied classification as a dormitory," Doolittle said. "We wanted to re-create some of the specialness he created."
Brenda Spencer, Kansas Preservation Alliance board member, said the Chi Omega rehabilitation was an excellent example of maintaining historical character.
To win the award, the project had to meet the Secretary of Interior's standards for rehabilitation, which ensures the work done retains and respects historical character.
Five projects statewide were given the Award of Excellence. Other projects included the Junction City downtown revitalization project, also designed by Theis Doolittle Associates along with a Manhattan architecture firm.
Spencer said it was obvious the Chi Omega members placed high priority in maintaining the house's character.
"It was really the first priority," said Stacey Dillon, Chi Omega corporation board president. "We tried to return it back to its original beauty with details in the house that were there when it was built."
Copyright 2018 The Lawrence Journal-World. All rights reserved. This material may not be published, broadcast, rewritten or redistributed. We strive to uphold our values for every story published.