The Lawrence book market may have turned a new page, but it hasn't reached its final chapter, booksellers say.
Although Borders a book world stalwart moved to town in 1997, independent store owners say there's plenty of room for everybody in a market that is hungry for books.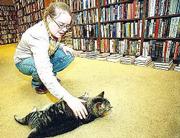 "The market tends to stay pretty steady," said Diane Meredith, who owns the Dusty Bookshelf, 708 Mass. "Even with Borders opening, we didn't see that much of a difference. In fact, we tended to find ourselves forgetting they were there."
Lawrence is one of the smallest markets for the national book chain, Borders manager Lisa Bakke said. But she said business has increased at the store each year since it opened.
"Lawrence is a great community for our store to be in," she said. "With the university, there's a lot of different interests in the community. It's a community of readers."
Borders joined another chain, Hastings Books Music & Video, 1900 W. 23rd St., which opened its Lawrence store in 1991.
Not chained down
Instead of battling the chains for the same book-buying dollar, owners of smaller stores say they are looking to find their own niche.
For the Dusty Bookshelf, which has been in Lawrence five years, that niche is used books. Meredith said the quality of used books she receives has climbed since Borders opened.
"The beauty of having a second-hand bookstore that has a broad inventory is we don't have one type of customer," she said. "We have people of all ages coming in and all levels of income."
Customer service counts
At Raven Bookstore, 8 E. Seventh St., co-owner Pat Kedhe said her 13-year-old store touts its personal service to compete with the chains. Although the store carries some used titles, it focuses on new books.
"We're interested in putting the right book in the person's hand," she said. "We're not interested in gross amounts of sales. It's a market that's appreciative."
Kedhe, who owns the store with Mary Lou Wright, said business slowed slightly when Borders opened. But things have steadied since then.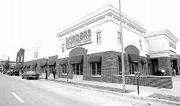 "It think with Borders the situation is it's a national chain," Kedhe said. "The people who work there, some of them are knowledgeable and many are not. It's a day job. It's a question of who lives in this community. We live in this community and are connected in long, deep ways."
All of the booksellers big and small face a common competitor: the Internet. But it's not online sales that have store owners worried. It's the increasing time people are spending on the Internet instead of reading books.
"The number of people who actually read books in the U.S. is very, very small," Kedhe said. "Right from the get-go you're looking at a very small population. It's not like selling Reeboks or Nikes. Not everybody has to have one."
The Internet provided a new market for one longtime Lawrence bookseller. John Hood, who owned J. Hood at 1401 Mass. for 26 years, closed his storefront in October to concentrate on Internet sales.
The plan is working, Hood said, because he specializes in scholarly and technical books. It might not work for general-interest books, he said.
The Internet also has been a help to Howard and Kathi Hartog, who have owned Vagabond Bookman at 1113 Mass. for seven years. The shop specializes in rare and collectible books, and Howard Hartog said the Internet has piqued the interest of some collectors.
"It's showing people there are used and rare books out there," he said.
Some specialize
John Sterns, book manager at Hastings, said local stores complement one another.
"I refer a lot of people to smaller stores when we don't have what they want," he said. "I know they would specialize in certain things that I can get and may not have."
Sterns, like the other booksellers, said the active Law-rence market should continue into the future. But, he said, the market seems to be balanced with the current stores.
"I think there's room for everybody," he said. "I think there's a lot of market in Lawrence, but I'd hate to see several other large chains come in here because it would ruin the market for other people. There's a lot of potential market out there, but we've hit the market pretty well the way it is."
Copyright 2018 The Lawrence Journal-World. All rights reserved. This material may not be published, broadcast, rewritten or redistributed. We strive to uphold our values for every story published.