"Upscale."
It's one of those terms that's awfully hard to define, but you know it when you see it.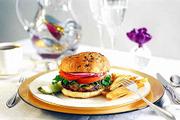 Some consumers equate it with being pricey, but it doesn't have to be.
Maybe a better definition for "upscale" is an emphasis on quality rather than just price point.
However you interpret the term, it appears to be where Lawrence retail is headed. Within the last year, a number of businesses that could be called "upscale" have opened in town.
These are places that cater to customers who recognize high quality and are willing to pay perhaps a bit more for it.
Among the newcomers: Prairiefire: An American Bistro, 724 Mass.; The BleuJacket, 611 N.H., a French-American restaurant; the Hereford House, 4931 W. Sixth St.; and Talbots, 646 Vt., a national retailer of classic women's clothing and accessories.
Are those openings signs that Lawrence is on the up and up, that the town is part of a larger trend toward upscale retail offerings?
"I think it is. And the fact that it's upscale, independent local businesses in combination with national chains is important, so that Lawrence can continue to have the character that we love," said Judy Billings, senior vice president of the Lawrence Chamber of Commerce and director of the Lawrence Convention and Visitors Bureau.
"I do think people are supporting these upscale restaurants, for example, in a big way. That says a lot for us in terms of the types of people we will attract to the community."
To Billings and others in economic development, these folks have a name: "high-value visitors."
"They have discretionary money to spend shopping and dining, attending the arts and sports events," she said.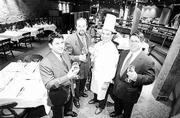 Demographic studies
The Hereford House, which has restaurants in downtown Kansas City, Mo., and Leawood, opened a third establishment Nov. 29 at 4931 W. Sixth St.
"A lot of the attraction is just the area and the growth here. Everybody pretty much knows the west end of Lawrence has extended immensely," said Hereford House manager Adam Cordova, a lifelong Lawrence resident. "And there really weren't that many places where you could go in town for fine dining in a casual atmosphere."
Cordova said he welcomes the recent addition of The BleuJacket and Prairiefire, and he believes the city can easily support the increase in the number of restaurants offering fine dining.
"The only problem I might see would be during the summer, when all the college students are out (of school). College kids have been an important part of our business. But I think Lawrence can definitely handle it," he said.
He said the average check for a meal at Hereford House varies widely.
"It's probably around $25 per person. But our dishes go from a $41 steak-and-lobster dinner to a $13.95 chicken fried steak," Cordova said.
An international flavor
Dan Almanza and Chris Hanna of Lawrence opened The BleuJacket, which serves French food, on Dec. 15.
"My partner Chris and I were sitting around one night and talking about the fact that Lawrence didn't have anything as far as upscale dining," Almanza said. "You had to drive all the way to Kansas City. Sometimes you'd get a great meal, sometimes you wouldn't. We thought: 'Why don't we do something here?'"
The men felt Lawrence could support the kind of restaurant they had in mind.
"We did a couple of demographic studies that showed there was enough disposable income in this town to support it. Plus, you would have visitors coming here from Kansas City and Topeka," Almanza said.
"We also spent about 12 months going across the country to the best restaurants we could find. We thought the things that worked there could also work here."
The men worried a bit that Lawrence diners would be hesitant to embrace fine French food, but that hasn't turned out to be the case.
"We've been pleasantly surprised," he said. "People are extremely educated and knowledgeable."
The BleuJacket has been attracting a wide range of customers, including younger people.
"(Studies) said the disposable income (in Lawrence) lies primarily in the older group, 35 to 55 years old. But we've gotten our fair share of the college-age kids; they consider it a romantic spot," Almanza said. "We've seen many, many birthdays, anniversaries and engagements celebrated here in a short time."
Filling a niche
Like Almanza, Steve Wilson thought Lawrence needed an expansion of its restaurant offerings. He opened Prairie-fire on Nov. 29.
"Previously in Lawrence, we had an extreme of fast food. Ninety percent of our restaurants were limited table service or fast food. What you're seeing now is the rest of the niche being filled in," he said.
"The fact that the restaurants that have appeared recently in town are more expensive than their predecessors is simply a demand being filled."
But Wilson said that restaurants like Prairiefire, the BleuJacket and Hereford House are too different to be lumped together.
Nor is he comfortable with the term "upscale" to describe his restaurant.
"To me, using 'upscale' as a descriptor is rather meaningless. We just wanted to make an experience out of dining. Our intent was to provide a level of quality that is above average," Wilson said.
"Our food is not more expensive than the competition, generally speaking. We have meals that range in price from $8 or $9 to $30. The goal with our menu is not to go after any one customer, but to find people who care about what they eat and appreciate dining."
Talbots, meanwhile, was attracted to Lawrence based upon the strength of its catalog sales in the area.
"We know there are customers here. And by opening a store in the community, we provide those customers with another opportunity to shop with us," said Betsy Thompson, director of public relations at the company's headquarters in Hingham, Mass.
Talbots has more than 720 stores, primarily in North America, including locations in the Kansas City area, Wichita and Topeka.
"We do look at all the other demographic factors, too, when opening a new store. We have a well-defined customer who is in her 30s to 40s, works, is educated and active in the community," Thompson said.
"We've got customers in the Lawrence area who know us, and there's a likelihood they'll come in and shop in our new store."
Billings doesn't think Lawrence retail is headed upscale, as much as the city is simply expanding an already existing base of upscale businesses.
A gradual change
And it hasn't happened all at once.
"It's an evolution over a long period of time. We've had places like The Bay Leaf, an upscale gourmet store; Spectator's, which has very high-end clothing; and Eastons Ltd. for many years," Billings said. "We've proven that we can support high-end businesses in Lawrence. Now we're just seeing an expansion of the base of upscale retailers."
That's good news to Billings.
"People who like high-end stores also like the arts, so they'll spend money in galleries. They'll also spend money for events at the Lied Center," she said.
"But I wouldn't want us to become too elitist, either. You have to have that mix of locally owned businesses and national chains."
Copyright 2018 The Lawrence Journal-World. All rights reserved. This material may not be published, broadcast, rewritten or redistributed. We strive to uphold our values for every story published.