Lillian Sengpiehl wants nothing more than to sing for her supper, to make a living performing arias in the major opera houses around the world.
And she's on her way.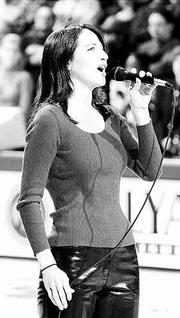 Sengpiehl, who graduated in the mid-1990s from Kansas University, has sung leading roles at the Lincoln Center, the New York City Opera and the New York Chamber Sinfonia. She also can be heard as a member of the Philip Glass Ensemble on the soundtracks for "Truman," "Kundun" and "Beauty and the Beast."
"You need to do as many roles as you can to get them under your belt," Sengpiehl said during a recent interview. "The major (opera) companies won't hire you until you do. I'm just now feeling that my voice is where it needs to be."
Sengpiehl was in Lawrence recently to sing the national anthem and KU Alma Mater at the KU vs. Missouri basketball game. It was a familiar role, one she had done during the four years she spent at KU working on a bachelor's degree in theater and voice.
Sengpiehl said she didn't start out as a singer. As a youngster growing up in Parsons, she studied violin using the Suzuki method. It wasn't until her family moved to Topeka and she enrolled at Topeka West High School that she realized she wanted to sing.
"I decided I didn't want to be in orchestra," she said. "I always knew what I wanted to do, but I didn't start until I was about 14."
During her teen years, she performed in school productions and at theaters in Topeka and the Kansas City area. At KU she studied voice with music professor Norman Paige and appeared in several theater productions, including "The Turn of the Screw," "Ghosts," "Carmen," "The Consul," "Pirates of Penzance" and "Cabaret." She lists theater professor Jack Wright as a mentor who helped her develop her acting skills.
She also participated in KU's jazz choir and worked with Dan Gailey, director of jazz studies.
"After graduation, I spent the summer in Italy working on (the Italian) language and then I went into graduate school," she said.
She auditioned for Manhattan School of Music in New York City, New England Conservatory in Boston, Juilliard School in New York City, Curtis Institute of Music in Philadelphia.
"I got into them all, but I chose Manhattan because I thought I could get more performance experience," she said, adding that as a student she was able to perform the role of Stella in "The Tales of Hoffman" at New York City Opera.
Since receiving her master's degree, Sengpiehl has been auditioning, performing and continuing to take voice lessons.
"The studying never stops," she said.
Most recently, she sang the part of Mimi in "La Boheme" in St. Louis and the lead in the world premiere of "How To Make Love," a contemporary opera produced by actor Chevy Chase at the New York Miller Theatre.
Sengpiehl said one of the keys of success in opera is believing in one's abilities.
"It's all about confidence," she said. "A lot of singers when I was in school had great talent and great technique, but you can be swallowed up, especially in New York City."
And for those singers trying to get established in the opera world, she has one word of advice: Relax.
"Don't try to make it happen overnight. You want to do everything, but you can't. Let your voice develop. Don't try to do too much, and learn to say no. Let yourself rest."
Sengpiehl prefers to work nine months a year so she can take lessons and teach voice students. In the future, she wants to travel to Europe, perform in San Francisco and explore musical theater.
Copyright 2018 The Lawrence Journal-World. All rights reserved. This material may not be published, broadcast, rewritten or redistributed. We strive to uphold our values for every story published.