Triple-digit heat and single-digit cold. Tornadoes and snow. A dry summer. 2000 was a year of extremes for weather in the Douglas County area.
How extreme? Douglas Countians perspired in 107 degrees on Sept. 2 and shivered in minus 16 degrees Dec. 22, according to the National Weather Service office in Topeka.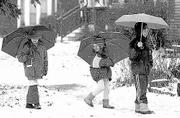 And despite a frigid, snowy conclusion, area winters may be getting back to "normal," according to weather forecasters.
"This is much more like the 1970s and '80s, instead of what we had in the 1990s," said Mike Smith, meteorologist with Wichita-based Weather Data Inc., in early January. "The '90s were a relatively mild and wet decade."
The average temperature in December was 21.2 degrees.
Still, it was well above the coldest December on record. That was 1983 when the average temperature was 14.39 degrees, weather records show. Average December temperatures in 1989 and 1990 were 21.02 degrees and 21.21 degrees, respectively.
Through November, the total rainfall for the year (which includes snowfall) was 29.71 inches, records showed. That was 10 inches below normal.
The winter of 2000 followed in the footsteps of the past few winters and remained mild. The average temperature in January was 6.5 degrees above the normal of 29.2 degrees and nearly 10 degrees above the 34.3 degrees for a normal February, said Brian Walawender, meteorologist with the National Weather Service in Topeka.
Kansas, long known for its spring tornadoes, saw two towns hit by them in the eastern part of the state Tonganoxie and Parsons.
Summer ended with a major heat wave that made people forget that it started out about normal.
In fact, average temperatures for June and July were slightly below normal, Walawender said. Not so in August, when the average temperature was 6.8 degrees above the normal of 78.1.
"The real heat didn't set in until the end of July and the first part of August," Walawender said.
So what kind of weather will we have in 2001? Weather forecasters are reluctant to say much about long-range predictions, Walawender and Smith said.
"All I can say is that it will be near normal," Walawender said.
Which means it could be colder this winter than in the past, he said. Smith agreed.
"After the past few mild winters, people have forgotten what it used to be like," Walawender said.
Bruce Chladny wonders what this past year of extreme weather will mean to trees and shrubs when it comes time for them to bloom in this spring.
"I've seen a lot of stressed trees and shrubs in my yard and elsewhere," said Chladny, horticulture specialist with the K-State Research and Extension Office in Douglas County.
Especially hit hard by the dry weather and high heat last summer were evergreens and spruce trees, Chladny said.
"I was getting a lot of calls in November from people whose spruce trees were turning brown and dying," he said.
Copyright 2018 The Lawrence Journal-World. All rights reserved. This material may not be published, broadcast, rewritten or redistributed. We strive to uphold our values for every story published.