With its impressive facade peeking out from behind the scaffolding, PrairieFire teased Massachusetts Street loiterers for months prior to its opening. As we wondered and waited the ensuing "buzz" created great expectations among those of us chomping at our forks for some new restaurants. But exactly what to expect remained a mystery.
Now we know. Expect wonderful food. Expect gracious service and simple but striking decor. And expect to take your time, so you're not, like one party we saw, skipping dessert to make a movie. PrairieFire deserves to be savored. Just because you can brew your own coffee at home they sell their coffee beans by the pound doesn't mean you should.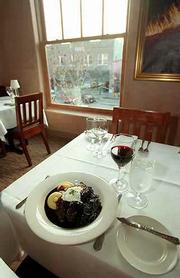 Local flavor
With an atmosphere that's refined yet relaxed, PrairieFire places the emphasis squarely on fresh, exquisitely prepared food from a menu that is creative but still comfortable. Enjoying it, it's tempting to remark, "We're not in Kansas anymore." But not only would that be clichnd inaccurate, it would be insulting to the proprietors of PrairieFire. They have, in fact, painstakingly incorporated the restaurant's locality into its operation, using locally-grown, organic food and displaying the works of Lawrence artists.
PrairieFire employs servers who not only know their menu but are proud of it, a cooking staff that produces many "housemade" items from pickles to ice cream and a chef who spends the dinner hour not holed up in the kitchen but making his way through the entire restaurant. There is small fear in asking customers how their food is when you already know the answer.
It's been suggested that a restaurant can be judged on the bread. Given that bread is probably our most basic food and usually bears responsibility for a restaurant's first culinary impression, it's not an invalid argument. PrairieFire accepts this challenge enthusiastically: warm, fresh slices, tied neatly in a napkin, arrive with homemade butter lightly flavored with thyme, parsley and chili flakes.
By the time I'd finished carbo-loading, there seemed little point to tackling an appetizer, but I'm glad I did with the aptly-named Phoenix. This mixture of black beans, mozzarella and jack cheeses and New Orleans-style ham is doused in rum and then flamed at the table. Watch it burn down it takes a couple of minutes then eat it with fresh, crispy tortillas.
One thing that impressed me at PrairieFire was that chef Tom King seems to expect all of his foods to work for him. A perfect example was the salmon, poached in a fish stock with butter and wine and served with leeks, roasted squash and black-eyed pea fritters. The elements of this dish fit together in lockstep, ensuring that each component was key to the whole: Subtle seasoning on the fish, combined with poaching that preserved its delicate nature, allowed the vegetables to assist in providing texture and substance.
This strategy worked equally well with a Kansas City strip topped with blue cheese and served with french fries and "vegetable of the day" in this case, mustard greens and escarole. Everything on this plate had been carefully prepared and imbued with its own little personality, and consequently nothing was ignorable. Quite an achievement, if you ask me, for french fries.
"We have a really good philosophy," our waitress told us. "Everything's fresh." OK, it sounded suspiciously like she was spouting a phrase that they'd just finished practicing back in the kitchen. Nevertheless, it is a really good philosophy, and it's in evidence everywhere; the salad, for example, forewent tomatoes (which aren't in season), for carrots and beets, which are. The restaurant also changes its menu quarterly to reflect seasonal foods.
Pure art
PrairieFire describes its food as "American," an easy term, I think, to mean they serve whatever they feel like. Selections include a pork chop with plum gravy and barbecued catfish with a chipotle-molasses sauce. The pastas, several of which are served with a garlic-heavy "arrabiata" red sauce, are excellent. Several lunch sandwiches are available; the slow-cooked Memphis pork ingeniously uses cole slaw for taste and crunch, and the "mustard mopping sauce" gives even plain yellow mustard new reason for being. The white cheddar grilled cheese sandwich, with bacon or mushrooms, had me swearing off pale American cheese versions ever after.
Desserts are handled by Sula Teller, formerly of Milton's. A yummy butterscotch-pecan bread pudding is the "signature dessert;" dessert of the day, a peanut butter extravaganza of cookies, ice cream and truffles also was delicious. Citrus rice pudding sounded elective at best, but by the time I finished dinner I trusted the kitchen completely, and they didn't let me down.
Upstairs dining at PrairieFire is slightly "more formal"; we ate downstairs but both are beautifully appointed. Of particular note are the breathtaking paintings, which positively glow under gallery-quality lighting. I especially enjoyed the gentle satire of a series depicting such eateries as "Bud's Caf with its specialties of hamburgers and chili.
Real prairie fires eventually die down, but under the expert hand of a chef and staff who know and care about what they're doing, we can hope that this PrairieFire will sustain a long, controlled burn.
Copyright 2018 The Lawrence Journal-World. All rights reserved. This material may not be published, broadcast, rewritten or redistributed. We strive to uphold our values for every story published.