Charles Shelley didn't vote in Tuesday's election, and he was the rule not the exception.
There just weren't any issues big enough to get the rural Douglas County resident to the polls.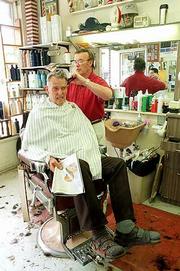 "Maybe it's the importance of the office," he said while waiting for a haircut Wednesday at Amyx Barber Shop, 842-1/2 Mass. "But who's to say the school board is less important than the president?"
According to unofficial vote totals, about 22 percent of the 52,838 registered voters in Douglas County went to the polls Tuesday to vote for city commission, school board and other local races.
That was the lowest turnout ever for a spring general election, about 1 percent less than voted in 1999.
But it gets worse: Considering that only about 66 percent of those 18 and over are registered, just 15 percent of all county residents who could have voted Tuesday actually did.
That left Douglas County Clerk Patty Jaimes frustrated, especially considering that 76 percent of registered voters went to the polls last November.
"I did hear a comment: 'I didn't know those people, so I didn't feel comfortable voting,'" she said. "You didn't know the local people, but do you know the presidential candidates personally?
"You have a lot more hands-on impact on your local government. If you elect somebody to the national level, you may or may not ever hear from them again."
Issues fail to interest
That local impact is why Richard League generally votes in all elections. He didn't Tuesday because of a sprained ankle.
League cited the 1997 municipal election, when the issue of closing small schools created enough controversy to lure more people to the polls.
"The issues weren't as clear-cut and specific as they were at that time," he said. "When they are, they're better advertised."
The light turnout wasn't limited to Douglas County. Jefferson County saw just 15.8 percent of registered voters at the polls Tuesday, Leavenworth County had 16.2 percent and Franklin County had 22 percent.
And in Johnson County an affluent area like Douglas County only 13.25 percent of registered voters took the time to cast ballots.
Johnson County Clerk Connie Schmidt said many voters in the county could only vote for community college trustees or water district board members. Those races didn't draw voter interest.
Creating interest
To combat low turnout in Johnson County, community members created the Celebration of Patriotism Foundation in October 1999. Before the November election, the foundation stressed to students the importance of voting, hoping it would influence their parents to vote. This time around, members sent out postcards to everyone in the county, reminding them to vote.
Schmidt said she thought it would take several years to see whether the foundation was effective.
Bryan Caskey, an administrative assistant in the Secretary of State's office, said his department doesn't keep tabs on turnout for elections that don't have statewide candidates or issues. But he said counties in rural, western Kansas tend to have higher turnout numbers than eastern, urban areas.
Linda Spurner, Greeley County clerk, knows the importance of voting in local elections. She defeated an opponent in the 1991 primary by two votes.
Greeley County, which borders Colorado, had 37 percent turnout in this election. And, Spurner said, "We didn't have any real races, per se."
Speaking up
Spurner said county residents often don't get much of a say in state politics, so they do what they can vote.
"Greeley County just wants to let the people back east know there is a western Kansas besides Wichita and Great Bend," she said.
That attitude carries over into local elections, she said. And it doesn't hurt that her county's population is older than some in other areas of the state.
"After (students) graduate from high school and they go off to college; it's kind of left by the wayside," Spurner said. "Truthfully, they just forget about it."
Caskey said he didn't know whether get-out-the-vote campaigns make a difference.
"People know when Election Day is," he said. "In a lot of cases, there's not a lot to vote for. Sometimes there's not a lot of quality candidates to stir up interest. It's hard to get people to the polls when they're voting for someone unopposed or for write-ins."
"I've been scratching my head," he added. "I just don't understand."
Copyright 2018 The Lawrence Journal-World. All rights reserved. This material may not be published, broadcast, rewritten or redistributed. We strive to uphold our values for every story published.