"Is Morgan Freeman the greatest American actor? Back in 1980, in a late-night-over-drinks conversation, a friend and I wound up agreeing that maybe he was." Pauline Kael, New Yorker, April 20, 1987.
When the world's most powerful film critic makes such a statement, people in the industry pay rapt attention. Now, 14 years after Kael opened her famed review of Freeman's "Street Smart" with that assertion, the 63-year-old actor has established a body of work that can pretty much support it.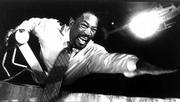 "I'm not the 'greatest' actor. There is no such thing, and there can't be any such thing," Freeman says of the expectations that followed Kael's article. "One person (said something) and posed it as a question. She didn't make a statement ... We're not going to mythologize me because of that are we?"
Interviewed at a press roundtable in Los Angeles prior to the release of his latest film, "Along Came a Spider," Freeman is quick to downplay his own legend.
"I'm an actor," he says. "That's a gift I was born with. I don't have a talent for inspiring anybody. I only have a talent for pretending to be something I'm not."
Spider-Man
Freeman's current foray into make-believe marks the first time in his 39-feature career that he is resurrecting a character. In "Along Came a Spider," Freeman returns to his role as police detective/psychologist Alex Cross, who he originally popularized in the 1997 thriller "Kiss the Girls." In the new espionage-heavy film, Cross must retrieve the child of a diplomat from the clutches of a fame-seeking terrorist who is modeling crimes on the Lindbergh kidnapping.
"I don't want to revisit characters," Freeman says sternly, offering other reasons why he accepted the project. "You might imagine that I got paid well. And there was going to be (director) Lee Tamahori. And it's really not a bad character. And at home, you've got two offices and a house full of people telling me that I ought to do it.
"I liked the idea of a cop who is a really bright guy," he says of the character. "Very intelligent, well trained, well schooled he's not just a cop. He has a doctor's degree. He's an author. To get a doctorate, you've got to be a pretty good writer ... And, let's face it, I like him."
The process of making "Along Came a Spider" was paved with difficulties. Freeman admits he was not a fan of best-selling author James Patterson, whose Cross series the movies are based on. (When asked if he's read any of these books, Freeman dryly responds, "Yeah, I read two of them.") And the film deviates from the novel even more conspicuously than most novel-to-screen adaptations. Freeman was openly critical of the script's frailties while shooting the picture, especially the ending, which was rewritten and reshot a half-dozen times.
"Maybe one of the drawbacks of this type of thing is that you're dealing with a known entity already," he explains. "You know what kind of moves (Cross) would make, mentally. You know what kind of thought processes he is set to go through. And if things don't seem to go along that line, you have to say, 'Wait, wait, wait, wait. This is not the right guy. You're not making the right moves here.' But I didn't often have that problem. I thought that problem existed in the book, not in the script. Because in the book, they (Cross and a female FBI agent) have this incredible love affair. To me it's like, 'Wow, you'd think he'd be smarter than that.'"
Freeman's insistence on untangling these plot webs (he is also the movie's executive producer) resulted in a satisfying ending that deviates considerably from the novel.
"It was all solved," he says. "But these things take tears not on my part. There were no tears on my part. I don't cry."
And the winner is...
Interviewed two days before the Academy Awards, Freeman is preparing to be a presenter at the event. Thrice before he has attended the festivities as a nominee in the acting categories ("Street Smart," "Driving Miss Daisy" and "The Shawshank Redemption") but has yet to bring an Oscar home with him. At least he does get to vote.
"I'm not supposed to tell you (who I voted for)," he says, though he reveals, "I really like Tom Hanks. He's never made a false move."
Even with his stature in the industry, Freeman admits that attending the gala event brings out the school kid in him.
"What's fun is being in that mix. I think many of us are still going around inside saying, 'Oh gee that's so-and-so!' One time Jane Fonda walked in, and it was like, (yells) 'There's Jane Fon...'" he says, quickly clasping his hand over his mouth.
Freeman intentionally remains removed from the Hollywood lifestyle, choosing to make his home in Clarksdale, Miss. (which is made evident during the interview by his tattered fishing cap with the town's name on it.) Luckily, few of the movies he stars in are actually shot in Los Angeles. Principal photography for "Spider" took place in Vancouver, B.C., while exteriors were filmed in Washington, D.C. After the awards, Freeman plans to flee from the West Coast again, this time flying to Poland to begin work on the adaptation of Tom Clancy's "The Sum of All Fears." Next, the actor can be seen alongside his "Kiss the Girls" co-star Ashley Judd in this fall's "High Crimes."
"I get to play a role that I haven't done before, playing a trial lawyer," he says. "But an alcoholic, and a guy who's just come off the nickel.'"
Though Freeman seems to constantly be working, he maintains that, despite the noted tag as "the greatest American actor," he is rarely in the position to turn down roles.
"I don't get jobs like that," he says. "I almost never say, 'OK, I'll take this job and not that one.' I take what comes along."
... and along came a spider.
Copyright 2018 The Lawrence Journal-World. All rights reserved. This material may not be published, broadcast, rewritten or redistributed. We strive to uphold our values for every story published.