Beijing — As China pressed its demand that the United States apologize for a collision between a U.S. spy plane and a Chinese fighter jet, China's foreign minister said Wednesday that Beijing wants a dignified resolution "as soon as possible."
President Jiang Zemin called for an apology, as did Foreign Minister Tang Jiaxuan in a meeting with the U.S. ambassador. American diplomats, meanwhile, sought a second chance to see the crew of the Navy EP-3E, which made an emergency landing on a Chinese island after the collision.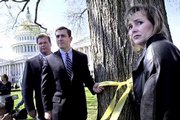 The White House ruled out any apology, and President Bush has said China must return the plane and its crew or relations could be damaged.
But in an apparent attempt to soothe Chinese feelings, Secretary of State Colin Powell expressed regret Wednesday over the loss of the Chinese pilot, who parachuted out of his fighter over the South China Sea and was presumed dead.
"We regret the loss of life of that Chinese pilot, but now we need to move on," Powell said.
Powell's statement came after Tang gave the first sign of Chinese desire to end the mounting tension in his meeting with Ambassador Joseph Prueher.
Beijing "pays attention to China-U.S. relations and hopes to see the collision incident resolved appropriately as soon as possible," Tang said, according to state media.
Earlier, Jiang demanded an apology, adding that the United States should "do something favorable" to smooth China-U.S. ties, state media reported.
Zhang Hongxi, China's consul general in New York, wouldn't comment directly about Powell's expression of regret. But he insisted the U.S. plane was to blame for the crash, and said he personally favored U.S. payment of compensation.
American officials said Wednesday that the crew indicated it destroyed at least some of the intelligence-gathering equipment and data aboard the plane before it landed.
U.S. diplomats on Hainan said they received no response to requests Wednesday to see the crew again or to meet with Chinese officials.
Copyright 2018 The Associated Press. All rights reserved. This material may not be published, broadcast, rewritten or redistributed. We strive to uphold our values for every story published.