Orlando, Fla. — After two of David Curiel's rave-scene friends died of drug overdoses, he realized something needed to change.
So two years ago, the 30-year-old industrial designer formed The Future Tribe Project. The group consists of about 20 rave regulars who try to educate fellow ravers about drugs and safe sex in a nonjudgmental manner.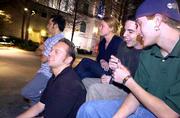 They spread the word when bad drugs are circulating and pass out condoms at raves.
"We're just trying to save lives," said Curiel, who wears a nose ring, earrings in each ear and a stud under his lip. "I don't want to see any more of my friends die."
They've also tried to counter the socially irresponsible image of ravers by volunteering at a nursing home, an Adopt-a-Highway program, and helping build homes for Habitat for Humanity. One Future Tribe flier says getting high is not what raves are about.
"It's about DANCING, the music, having a good time, opening your mind, connecting with others," the flier reads. "We are not the slacker losers they want you to believe we are. We are creative, dynamic, young, peaceful, evolving, beautiful people."
The public relations campaign can't come soon enough. Orlando's rave scene has become public enemy No. 1 for the community's politicians, law enforcement officers and religious leaders.
The fans of electronic dance music, usually teen-agers or those in their early 20s, have been blamed for drug overdoses, sex crimes, vandalism and excessive noise in the city. Club drugs, such as Ecstasy, GHB and crystal meth, were responsible for 230 deaths statewide between 1996 and 1999, according to the Florida Office of Drug Control.
"Ladies and gentlemen, our children are being poisoned," Orange County Sheriff Kevin Beary said in February during a hearing on the rave scene.
The most recent attack against the rave scene comes from the Orange County Commission. It is expected to vote in several weeks on an ordinance that would tightly regulate after-hour venues that don't serve alcohol but attract segments of the rave scene. The so-called rave clubs would have to be licensed every year, subject to inspection at any time, and required to have off-duty police officers and paramedics on the premises.
"The idea is to create consistency between clubs that would cater to underage folks and those that would cater to adults," Orange County Chair Richard Crotty said. "Clubs for adults are licensed."
Copyright 2017 The Associated Press. All rights reserved. This material may not be published, broadcast, rewritten or redistributed. We strive to uphold our values for every story published.