Affordable housing is one of the prime challenges facing Lawrence, Mayor Jim Henry said Tuesday in his State of the City address.
"Escalating housing costs drive some young families and single professionals out of the real estate market," Henry said in his address prior to Tuesday's Lawrence City Commission meeting.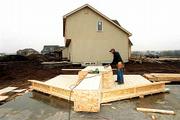 Henry, in the waning days of his yearlong term as mayor, emphasized the city's accomplishments in the speech. But he also looked ahead to challenges facing the commission, including housing costs.
"On one hand, we celebrate that our community continues to attract new residents, new housing and new businesses," he said.
"On the other hand, we need more partnerships such as Habitat for Humanity and Tenants to Homeowners that provide housing alternatives for those who work but perhaps fail to qualify for traditional first-time homebuyers programs."
Over the past year, Henry said, the city's biggest accomplishments include:
l Start-up of the transit system on Dec. 16, after years of efforts to bring busing to Lawrence.
"Ridership continues to increase and we will be seeing bus shelters and route improvements in 2001," Henry said. "It is clear that it is meeting a need for many people in our community."
l Groundbreaking for the Downtown 2000 project in the 900 block of New Hampshire Street, including a 520-stall parking garage, new retail and office space, loft apartments and a new home for the Lawrence Arts Center.
Establishment of a half-million dollar housing trust fund with money left over from the under-budget Indoor Aquatic Center project at Free State High School.
Acquisition of 180 acres of "green space" for future city parks.
Passage of ordinances to stabilize single-family neighborhoods, including a cap on three unrelated people living together. An ordinance requiring registration of rental properties in those neighborhoods awaits final approval.
Henry said future challenges include a re-examination of curbside recycling, maintaining emergency services, improving traffic and examining the use of tax abatements.
He noted an 18-member task force has begun to examine the tax-abatement issue.
"We are learning from each other in an environment where all opinions are aired," Henry said. "I am confident that the entire community will embrace and promote the outcome."
Copyright 2018 The Lawrence Journal-World. All rights reserved. This material may not be published, broadcast, rewritten or redistributed. We strive to uphold our values for every story published.