Arlington, Texas — Alex Rodriguez has nothing to prove to the Texas Rangers, even after striking out three times in his first home game.
"Let's not get overanalytical or critiquing four or five at-bats," Texas manager Johnny Oates said after the Rangers beat Anaheim 3-2 in their home opener Tuesday.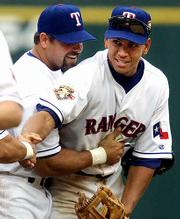 "He's not a guy that is accustomed, probably, to striking out three times in a ballgame. But I'm sure he wants to do well. There's so much attention focused on him."
Playing his first game in Texas since signing his $252 million, 10-year contract, the richest in sports history, Rodriguez struck out swinging in the first and eighth innings, took a called third strike in the sixth and singled in the third.
Rodriguez who struck out 121 times last year increased this year's strikeout total to four in eight at-bats. He also has three hits, all singles.
Rodriguez also had his first stolen base of the season and was flawless in five fielding chances taking part in two double plays before 49,512, a regular-season record at The Ballpark in Arlington.
"He wants to do so well. We all know he's a great player. He doesn't have to prove anything to any of the guys in there and probably not to anybody in baseball," said winning pitcher Kenny Rogers.
A-Rod, who had just 10 errors all last season, made a throwing error on his first chance in the season-opening 8-1 loss to Toronto in Puerto Rico and also stumbled twice while trying to get to balls Sunday.
Rogers won the Rangers' home opener for the second straight season and Tim Crabtree converted his first save opportunity for Texas. Rogers allowed just two runs and seven hits in 71/3 innings, struck out five and walked none.
After giving up a run in the third inning, Rogers retired 14 straight batters before running into more trouble. Benji Molina led off with a double, David Eckstein got his first career hit and Darin Erstad drove in his second run with his third hit.
Twins 3, Tigers 2
Detroit Even Detroit's first opening-day complete game in 12 years wasn't enough for the Tigers to overcome Brad Radke in Comerica Park's first season opener. Radke limited Detroit to one run in eight innings and David Ortiz homered to lead Minnesota. Before a capacity crowd of 40,104, Jeff Weaver pitched a six-hitter and struck out four for his third complete game in 60 career starts.
Devil Rays 8, Blue Jays 1
St. Petersburg, Fla. Albie Lopez scattered seven hits over eight innings, and Ben Grieve hit a two-run triple in his Tampa Bay debut. Lopez, who began last season in the bullpen, walked three and struck out six to move past Rolando Arrojo for the most victories in Devil Rays history (22). Shannon Stewart's second homer of the season, a solo shot in the third, accounted for the Blue Jays' only run.
Athletics 5, Mariners 1
Seattle Barry Zito held Seattle hitless into the sixth inning as Oakland beat the Mariners. Zito (1-0), making his 15th career start, gave up Mike Cameron's single up the middle for Seattle's first hit with two outs in the sixth. In seven innings, he gave up three singles and walked four with five strikeouts. Miguel Tejada's grand slam in the third off John Halama (0-1) gave Zito a 4-0 lead.
Copyright 2018 The Associated Press. All rights reserved. This material may not be published, broadcast, rewritten or redistributed. We strive to uphold our values for every story published.