TUCSON, ARIZ. — With the burned-out vehicles cleared away and smashed windows boarded up Tuesday, police tried to sort out the riot involving University of Arizona basketball fans.
Police also were examining their own response to Monday's melee in a commercial and residential district near the university. The riot began after Arizona's loss to Duke in the NCAA title game in Minneapolis.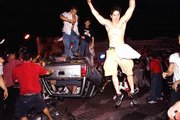 Fans overturned vehicles and set them on fire in a scene reminiscent of disturbances that followed the Wildcats' victory in the 1997 title game. Police eventually resorted to firing rubber bullets, stingball grenades, shotgun-fired bean bags and tear gas to disperse the crowds. Seventeen people were arrested, at least seven of them students.
Police deployed about 500 officers in riot gear Monday night.
"I felt that we did a whole lot better job last night than we did in 1997," Police Chief Richard Miranda said.
Officers did not move in and begin enforcing their order to disperse until after revelers had tipped over several vehicles and set at least two cars and a motor home on fire.
Copyright 2018 The Associated Press. All rights reserved. This material may not be published, broadcast, rewritten or redistributed. We strive to uphold our values for every story published.