It's been 11 days since Cayce Thomasson vanished without a trace.
The 21-year-old architecture student, described by friends and family as quiet and studious, was heard from last on March 21 when a friend called her Lawrence apartment.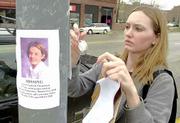 "She was working on class stuff," said Jennifer Pool, Thomasson's friend since second grade and also a third-year KU student.
Friends and family spent Sunday and Monday posting fliers with Thomasson's picture and description around campus and Lawrence.
On Sunday the young woman was reported missing to Lawrence Police by her father. Officers searched her apartment. They found no evidence of foul play, Sgt. Mike Pattrick said.
Her car was left behind, and so was her backpack. All that was missing, apparently, were Thomasson and her keys.
Friends and family said Thomasson's extended absence was completely out of character.
"School and home was pretty much her life," Pool said of the architectural engineering major. "She basically was at Marvin (Hall) 24-7, and there was no real spot she hung out."
Thomasson talked to her parents at least three times weekly, and sometimes everyday, said Sarah Thomasson of Leawood, Cayce's mother. She said she last spoke to her daughter on the phone March 21. Cayce had been recovering from an illness.
But later calls were answered by a message machine and Cayce never responded to the calls.
"We left messages on Wednesday, Thursday, Friday and Saturday," her mother said, noting that Cayce normally would return calls no later than the next morning.
Thomasson's father was in Lawrence Monday, talking to police and officials at the architecture school. Sarah Thomasson said police found 13 messages on her answering machine.
"She even missed a birthday of a longtime friend," Sarah Thomasson said. "Didn't even pick up the phone, and she's very conscientious about those things. That's what's gotten us so worried."
Police were following a lead that Cayce Thomasson might have attended an out-of-state concert, Pattrick said. But her mother and friends said there was no evidence Cayce had bought a ticket or planned to attend the show.
"It's just weird, what with her car and her backpack still at home," said Richard Gostautas, another friend. "All's that's gone are her and her keys, and it just doesn't feel right. And the hardest part is not knowing, because you've got a big knot inside of you that you can't get rid of."
Anyone with knowledge of Thomasson's whereabouts is asked to call police at 841-7210 or 843-TIPS.
Copyright 2018 The Lawrence Journal-World. All rights reserved. This material may not be published, broadcast, rewritten or redistributed. We strive to uphold our values for every story published.