Baldwin — There's a new alternative school here this year. It's in a building that looks like a home and it caters to students who might not have made it elsewhere.
"Some of them don't seem to mesh well in the traditional school setting, and we needed an alternative because we had exhausted all our resources in a traditional school setting," said Caren Lowe, director of the multidistrict cooperative that oversees the Summit School.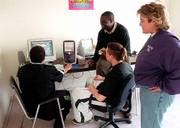 Officials from the Baldwin, Eudora and Wellsville school districts worked together to create the school. It's administered by the East Central Cooperative in Education in Baldwin. The cooperative also coordinates other special education programs for the three school districts.
Lowe said the school serves seventh- through 12th-graders who might otherwise be expelled or drop out. They are referred to the program by their home schools.
Lee Hanson is the school's lead teacher and a former special education teacher in Baldwin. She said school officials toured area alternative schools last spring to get ideas how to put Summit School together. Choosing the name also was important.
"We did a lot of brainstorming and decided it's a climb to the top of a mountain," she said.
The school's motto: "Most look up and admire stars, but a true champion climbs the mountain and grabs one."
The first year has been challenging.
The group has moved three times because the three-bedroom duplex, which now houses the school across the street from the Baldwin High School, wasn't complete until the end of December. Meanwhile, classes were held at the Baldwin City Public Library and Hanson's home.
Though a house isn't the ideal setting for a school, Lowe said she couldn't find another building that was suitable.
"The home setting has been nice for some of the students, but others think they can just watch TV," she said. "Sometimes there's a psychological disadvantage because it gives the students the wrong message that we're not a school. But we are there to do a job."
Hanson, two paraeducators and a full-time social worker and psychologist work with the 10 students. There is room for 12 students.
Hanson said the staff uses a hands-on approach with reading, mathematics, science, writing, social studies and career exploration. She said the group also takes field trips. Recently, students have participated in a water-preservation project, taking water samples from Clinton Lake and sending them to be tested.
Because it is a small school, Hanson said, her staff can work with a student more if extra help is needed.
"In a regular education setting, you don't always have that flexibility," she said.
Baldwin High School Principal Joe Gresnick said he thinks the program has helped, but he plans to review it at the end of the school year.
"Like a lot of new things there has been some positive things and there are some things we need to work on," he said. "We need to sit down and evaluate it to see if it's been good academically and if it's financially feasible to continue."
The cooperative received $60,000 from the districts as well as state and federal funds to develop and run the school.
Copyright 2018 The Lawrence Journal-World. All rights reserved. This material may not be published, broadcast, rewritten or redistributed. We strive to uphold our values for every story published.