State by state, merger by historic merger, the banker extended his empire through the South to Florida's tip, up the eastern seaboard to the capital, down to the Mexican border and, finally, out to the Pacific.
Hugh McColl conquered the U.S. banking industry with unending drive, brilliant strategy and military-style maneuvering. Just 15 years after taking charge of the tiny North Carolina National Bank, McColl turned it into America's largest bank in terms of deposits.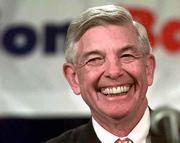 Today, McColl's Bank of America controls $1 of every $10 Americans have in their accounts.
This vast empire helps finance 2 million businesses, including 85 percent of the Fortune 500. One-third of American households 30 million in all hold accounts at Bank of America. Its 14,000 ATMs will handle 1 billion transactions this year. Its 60-story headquarters in Charlotte, N.C., has been dubbed the "Taj McColl."
From the beginning, McColl, an ex-Marine, dazzled his field officers with his vision of expanding nationwide.
"It was like John Kennedy saying, 'We're going to the moon,' " recalls Adelaide Sink, who oversaw operations in Florida. "He made us all believers."
For a while, the market believed him, too. High stock prices allowed him to buy bank after bank. But then the market decided that for banks, bigger isn't necessarily better.
McColl's stock plummeted with his crowning moment, the 1998 merger of his NationsBank with the West Coast giant Bank of America. Today the $645 billion megabank's stock hovers around $50, down 45 percent from its pre-merger peak.
Shareholders are grousing about McColl's $70 million bonus after the deal. Some want to block any parting gift of stock when he retires April 25.
How did a career built upon big visions and bigger victories end on such a sour note? The answer may be simple: Swallowing too many big banks can produce serious indigestion.
High-stakes competition
"What drives Hugh McColl is competing, winning," the banker once said of himself.
McColl honed his skills playing poker during two years in the Marines, once winning $40,000 from shipmates, according to an authorized biography.
Returning home to Bennettsville, S.C., he expected to work in his father's cotton business.
"Son, you don't have the brains to be a farmer," he was told. "You'd better be a banker."
His father used connections to get McColl a job in Charlotte, where a rivalry among three banks helped focus his drive to be big.
"We were aggressive because we didn't like being the little guys pushed around," he said.
The 5-foot-7 banker also fought to show that you didn't have to be 6-foot-2 to run a bank. And he dreamed of putting the South on equal footing with the money centers of the North.
At 48, McColl became CEO of the $13 billion bank called NCNB in 1983, just before interstate banking became legal. Employees remember that McColl managed by walking around, opening closed doors and asking, "What did you sell today?"
While they sold loans, he bought banks.
At first, his strategy made sense: Plenty of struggling local banks were there for McColl's taking. He could buy cheaply and let his managers turn them around.
Dealing for growth
Using the skills of a master card player, McColl sweet-talked and prodded 50 Sun Belt banks into merging.
McColl and other bigger-is-better bankers insisted that today's mobile society would welcome the convenience of a truly national bank. ATMs, automatic deposits, electronic bill-paying and Internet banking were supposed to cut costs, make bank lines obsolete and reduce the need for branches.
McColl's greatest victory came in 1988, when federal regulators practically gave him Texas' largest bank, First Republic Bancshares. After the real-estate collapse caused fears of widespread bank failure, the government agreed to write off First Republic's bad loans.
Separately, his team negotiated $1 billion in tax breaks to offset the very loans that had been forgiven.
For McColl, growing larger and scooping up assets meant he could buy the portion of the bank still held by the government and, not incidentally, finance a tower higher than the 47-story headquarters of First Union, the hometown competitor led by McColl's rival, Ed Crutchfield.
In 1991, with operations in just seven states and the District of Columbia, McColl's bank adopted the name NationsBank.
In 1997, after a string of expensive deals, McColl won a bidding war for Barnett Banks, a sterling franchise that dominated Florida's lucrative market. When questioned about paying $15.5 billion for a bank whose book value was about $4 billion, McColl said, "Let me ask the question another way: What is the price of not making an acquisition?"
To make the math work, McColl's bank had to cut 55 percent of Barnett's expenses, only to lose a chunk of the customers it had paid for. It now serves 22 percent of the market, down from the 26 percent that the banks together had served before the merger.
"It was like walking into a Marine recruitment center," remembers Ken Thomas, a Miami customer who switched to First Union. "The goal was to cross-sell you as many products as possible and charge you as many fees as possible."
Making the big play
Eight months after buying Barnett, McColl engineered what he called "the largest and most complex merger transition ever attempted in the financial services industry" a marriage with California-based Bank of America, linking two of the world's largest banks to form the first retail bank with operations coast to coast.
McColl had become a giant, hobnobbing with presidents and CEOs. This was his apex.
Now all he had to do was make the deal pay off.
Closing branches wasn't the answer; there was little geographic overlap between the Bank of America's West Coast operations and McColl's Southern powerhouse. What's more, linking the banks' two computer systems was expensive.
Since the merger, McColl's bank has written off $4.5 billion in bad loans and may write off more, because it is carrying $5.5 billion in past-due loans. It has taken $1 billion in restructuring charges, in part to pay severance to workers laid off when it eliminated 33,000 jobs.
With profits down $400 million to $7.5 billion this year, the stock trades below the shares of well-run regional banks and rival First Union. Despite an increase in dividends, Bank of America stock trades at about 10 times earnings, compared to about 15 times earnings for shares of large banks, says Frank Barkocy, research director at Keefe Managers hedge fund.
McColl says gains from the merger are still ahead.
"Even during the rougher days, I haven't changed my mind that there will be long-term benefits to our customers," he said earlier this year.
During the 1990s, the merger wave seemed to make perfect sense. Large banks could take over from managers of smaller, inefficient banks, consolidating headquarters and sharing the costs of technological innovations like databases and telephone call centers.
A wave of consolidation has nearly halved the number of commercial banks in the United States, from about 14,500 in 1983 to about 8,000 at the end of last year. The number of branches, however, has risen steadily from 55,000 to 73,000 as banks follow their customers into supermarkets and shopping malls.
So large banks, unable to cut brick and mortar costs, raise customer fees instead. Compared with smaller banks, large banks, on average, charge $3.66 more for bounced checks and 16 cents more for each ATM withdrawal, according to a Federal Reserve study.
Above all, the basic business of banking deciding who can be trusted to repay a loan is much harder to conduct from a far-off headquarters.
Slowing to an end
As his career winds down, McColl, who declined to be interviewed for this story, now appears to accept this.
In a letter to shareholders last year, he acknowledged that "making the pieces of Bank of America work in ways that create value for customers, clients and shareholders would be an even more challenging task" than the aggressive growth strategy that produced America's largest bank.
Until the 1998 merger, McColl's stock was outperforming other banks' stock by 33 percent. But after that, investors who bought into his West Coast expansion lost 50 percent more than other banks' investors, according to the Keefe Bank Index.
McColl didn't suffer with them, though. Just the opposite.
Since taking over, his compensation has increased at an average annual rate of 29 percent, roughly in line with the bank's asset growth of 27 percent. Last year, McColl was awarded about $75 million $3.75 million in salary and bonus, $45 million in restricted stock and 1.4 million stock options worth $27 million.
For years, shareholders have complained about the cozy ties among members of McColl's board of directors, which has made Business Week's list of worst boards.
"We were delighted when the chairman of the board announced he was stepping down," says Pat Macht, communications director for the California Public Employees Retirement System, which owns 1 percent of the bank's outstanding stock.
On the morning of April 25, McColl formally will hand power to his chosen successor, Ken Lewis.
He will face angry people who bought stock in his ambitions, who want him to do only one thing leave, quietly and cheaply. And he will face, too, the loyal employees he took to the moon and back, who now must manage the empire he built.
Tired of paying the price for being big, Hugh McColl now says he wants to enjoy the small things in life. The emperor of banking is going home to play with his grandchildren.
Copyright 2018 The Associated Press. All rights reserved. This material may not be published, broadcast, rewritten or redistributed. We strive to uphold our values for every story published.