Washington — A Senate panel urged Hollywood's top studio chiefs Wednesday to stop marketing their R-rated films to youngsters, but the executives promised only to be more careful.
Appearing two weeks after they initially were invited to Washington, the film executives offered some concessions they said would reduce chances that children would see material intended for older viewers, including: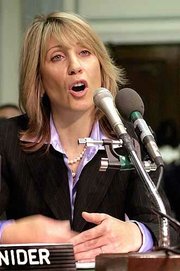 Each company will ask theater owners not to show advertising for R-rated films before showing G-rated movies.
Each company will "review its marketing and advertising practices in order to further the goal of not inappropriately specifically targeting children in its advertising of films rated R for violence."
No company will "knowingly include persons under 17 in research screenings for films rated R for violence."
But several members of the Senate Commerce Committee were doubtful about the sincerity of the industry's pledge to change, asking each executive: "Will you market your R-rated films to children less than 17?"
"That question sir, I cannot answer," said Mel Harris, president of Sony Pictures, which owns Columbia TriStar Pictures.
Harris had already conceded that his studio had used 9-year-olds to screen a serial killer film, saying it was a "lapse in judgment."
Even though many of the senators have blasted filmmakers for spending millions of dollars to pitch R-rated movies to minors, once the Hollywood heavyweights were at the hearing table, their questions were critical, though cordial.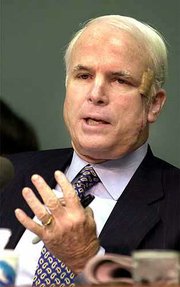 Most of the senators emphasized that the committee was not out to censor moviemakers, but work with them and parents to keep children safe from the kind of violence that erupted at Columbine High School last year, when 11 students and a teacher were shot to death by two students who shared a fascination with violent video games and films.
After the Columbine shooting, President Clinton asked the Federal Trade Commission to study violence in the film industry and its effects on children. Earlier this month, the FTC concluded that many R-rated films or advertisements for them were shown to underage teen-agers and children as young as 9.
"That's the kind of thing we're concerned about here," said a grim-faced Sen. John McCain, R-Ariz., chairman of the committee. "The marketing process is the real problem."
Copyright 2018 The Lawrence Journal-World. All rights reserved. This material may not be published, broadcast, rewritten or redistributed. We strive to uphold our values for every story published.