Kansas University's journalism school wants to build a cutting-edge newsroom for the student radio and television stations, student news Web site and student newspaper.
William Allen White School of Journalism and Mass Communications officials need to raise the estimated $100,000 it will take to do the job, said James Gentry, dean of the school.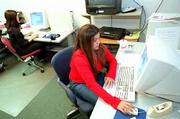 "We hope to make some presentations around Christmas to some donors," Gentry said.
The newsroom fits in with the journalism school's new emphasis on the convergence of the print, online and broadcast industries.
The bulk of the money being raised would go toward purchase of computers and furniture, Gentry said.
Current plans call for the use of rooms and part of the atrium on the second floor of Dole Human Development Center, where student radio station KJHK-FM and TV station KUJH have their offices.
Space opened up in the Dole Center after departments in the School of Education moved to the renovated J.R. Pearson Hall.
The student newspaper, the University Daily Kansan, would not relocate from Stauffer-Flint Hall under current plans, Gentry said. But some Kansan staff members would work in the new newsroom, under the proposed change.
"It will be somewhat of a realistic situation," he said.
Unlike plans by The World Company for a converged newsroom integrating news staffs of the Lawrence Journal-World, Sunflower Cablevision's 6News and the company's Internet operations, most newspapers do not want to be in the same newsroom with competing media, Gentry said.
That's one issue that concerns Dick Nelson, KUJH and KJHK newsroom supervisor.
"I kind of like the idea of the competition between the student media," Nelson said. "I like that, but (convergence is) the direction the industry is going."
Copyright 2018 The Lawrence Journal-World. All rights reserved. This material may not be published, broadcast, rewritten or redistributed. We strive to uphold our values for every story published.