Viewers who can't get enough life-and-death medical drama are in luck tonight. It would be easy to call this sudden wealth of health-care related docudramas a glut if they weren't so good. And "Hospital" (8 p.m., Discovery, TV-PG) is very good.
The new weekly series presents 24 hours inside the world-renowned Duke University Medical Center in North Carolina. Some patients arrive there by chance. 20-year-old Cedric Thompson is flown in by helicopter after his liver was shattered in a car accident. Others come to Duke because of its sterling reputation. Told he had, at most, two years to live due to a golf-ball-sized brain tumor, Alabama native and fervent Christian Russell Patterson did not give up. He and his wife sought out the best man they could find, Duke's Dr. Allan Freeman, known as the Michael Jordan of brain surgery. "Hospital" presents an unflinching look at Patterson's operation.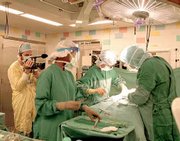 Combining scenes of nail-biting tension with emotional moments of relief, "Hospital," is a welcome addition to this crowded field of programming.
As "Hospital" begins, the ABC News series, "Hopkins 24/7" (9 p.m.) concludes with a look at the emotional toll exacted by a demanding profession. Dr. Brett Christiansen finds it hard to continue after losing two ER patients in a row. Dr. Lisa Moriarity throws in the towel, quitting her third-year residency after seven years of training. And if two hours of medical drama and trauma are not enough, you can get warmed up with "Paramedics" (7 p.m., TLC, TV-PG), now entering its fourth season with a look at an ambulance squad in Orlando, Fla.
Other highlights
"WWF Smackdown" enters its second season (6 p.m., UPN, TV-PG).
Scheduled Olympics coverage includes track and field, diving and equestrian events (7 p.m., NBC).
A run-in with Robert's ex-wife (Suzie Plakson) sparks a glance back at his failed marriage on a repeat of "Everybody Loves Raymond" (7:30 p.m., CBS, TV-PG, L).
Here are the prime-time ratings for Sept. 18-24 as compiled by Nielsen Media Research.1. "Summer Olympics Sunday," NBC.2. "Summer Olympics Tuesday," NBC.3. "Summer Olympics Friday," NBC.4. "Summer Olympics Thursday," NBC.5. "Summer Olympics Wednesday," NBC.6. "Summer Olympics Monday," NBC.7. "NFL Monday Night Football: Dallas at Washington," ABC.7. "Summer Olympics Saturday," NBC.9. "Who Wants to Be a Millionaire-Tuesday," ABC.10. "Who Wants to Be a Millionaire-Thursday," ABC.
"48 Hours" (repeat, 9 p.m., CBS): mold, bacteria and viruses.
Word of Aussie overload has not gotten to the makers of "Shark Gordon" (9 p.m., Animal Planet), a 13-part "aquatic safari" hosted by shark expert Ian Gordon. A must for TV's many shark buffs.
Heidi Fleiss discusses the world's oldest profession on "Turn Ben Stein On" (9:30 p.m., Comedy Central).
Series notes
Elimination on "Big Brother" (7 p.m., CBS) PBS drives Homer to hallucinations on "The Simpsons" (7 p.m., Fox, TV-PG, L, V) Dating antics on "Whose Line Is It Anyway?" (7 p.m., ABC, TV-PG) On back-to-back episodes of "Charmed" (WB, TV-PG), battling the Four Horseman of the Apocalypse (7 p.m., TV-PG, V), and a wish-granting genie (French Stewart) hopes to undo the sisterhood (8 p.m., TV-14, D, L, V).
Building a better robot on "Malcolm in the Middle" (7:30 p.m., Fox, TV-PG, L, V) Regis Philbin hosts "Who Wants to Be a Millionaire" (7:30 p.m., ABC).
An immunity test on "Survivor" (8 p.m., CBS, TV-PG, L, V) On back-to-back episodes of "That '70s Show" (Fox), Donna utters the "L" word (8 p.m., TV-PG, L), and done in by the velvet rope (8:30 p.m.).
Copyright 2018 The Lawrence Journal-World. All rights reserved. This material may not be published, broadcast, rewritten or redistributed. We strive to uphold our values for every story published.