Topeka — A Kansas institution in the world of psychiatric research and treatment for more than 75 years is leaving Topeka for Texas.
The Menninger psychiatric center is forming an alliance with Baylor College of Medicine and Methodist Health Care System in Houston.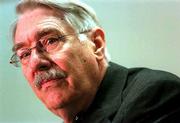 Although details of the alliance are still to be worked out, letters of intent to complete the transition by 2002 were authorized by the boards of directors of all parties, said Dr. Walt Menninger, the clinic's president and chief executive officer, during a Wednesday news conference here.
The alliance will establish a national center for specialty psychiatric services and a new institute for brain and behavior research.
The alliance offers a greater opportunity for Menninger's to continue to expand its work in mental health, Menninger said.
"The Menninger of the future will be much different from the Menninger's of the past," he said.
Menninger's has been looking at other options for the past year because it could not financially continue as it has in Topeka, Menninger said. Changes in insurance reimbursement policies have affected the clinic as well as other mental health centers in Kansas, and that was a factor, he said.
Menninger has 263 beds hospital-wide for children, adolescents, adults, and the elderly, and employees more than 1,100 full- and part-time staff. Its annual budget exceeds $77 million.In 75 years, Menninger has treated nearly 189,000 patients from throughout the United States and the world. Another 35,000 patients have been treated at other Menninger locations.Patient services are provided on a fee-for-service basis, and 89 percent of patients are covered by insurance or managed care contracts.Menninger has 112 trustees from 25 states, the District of Columbia, and three other nations. Twenty-nine trustees serve on the board of directors.Clinical professionals include psychiatrists, psychologists, psychoanalysts, internists, neurologists, psychiatric social workers, nurses, counselors, mental health technicians, activity therapists, theologians and special educators.
Menninger didn't release many details of the alliance, but he did say that it will allow the clinic to expand its endowment value from an existing $100 million to $300 million.
Other offers, including a $100 million package by the state of Kansas in conjunction with Kansas University Medical Center, also were studied. The med center had offered to become partners with the clinic to build a brain research institute on its Kansas City, Kan., campus.
"We're pleased with our choice," Menninger said. "You should understand the decision to relocate was made with care and diligence by our board of trustees."
KU Chancellor Robert Hemenway said plans for a brain institute will continue.
"I'm disappointed," he said of the Menninger decision, "but I'm understanding of the difficult decision they had to make."
John Solbach, a Lawrence attorney and former state legislator whose wife, Patricia, heads a drug research clinic at Menninger, said the impact of Meninger's exit will be felt in Lawrence.
"There are a number of people who work at Menninger and who live in Lawrence and the surrounding community," Solbach said. "These people will now decide whether to stay and find other employment or take early retirement, or pull up stakes and move with Menninger if such an offer is made."
Lawrence's economy will miss the paychecks of those who leave, Solbach said.
"I don't have any numbers but many of higher-paid Menninger employees are among those who live in Lawrence," he said.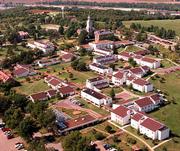 The decision to move was based on five factors, Menninger said. He cited sharing of a common vision with Baylor and Methodist; stature of research and enhancing the clinic's reputation; philanthropic and economic support in Houston; the Baylor and Methodist management model; and cohesiveness of the transition.
Dolph Simons Jr., editor and publisher of the Lawrence Journal World, was among about 40 Menninger trustees who attended a meeting earlier Wednesday. For Menninger to continue to grow and excel it had to move, he said.
"It's unfortunate for Kansas and for Kansas City, but Houston came out a pretty clear winner," he said. "The main concern was that Menninger would be able to carry on its mission in the areas of research, education and caring for people."
The trustees' vote to move was unanimous.
Menninger said he expected a large number of the clinic's more than 1,600 employees will have the opportunity to move to Houston. He said he was unsure what would happen to the clinic's Topeka campus.
Walt Menninger also said steps would be taken to see that the clinic's Kansas patients will be taken care of.
"We are committed to make sure that there are resources here to meet their needs," he said.
Menninger's exit will leave a void in the state's social service system, former state welfare secretary Robert Harder said.
"We have grown accustomed to Menninger being part of the social service environment of the state of Kansas," Harder said. "I'm afraid that over time we've become so accustomed that we tend to minimize the role it's played in making the mental health system more humane and more understandable to the general public."
Gov. Bill Graves said he was saddened by the Menninger decision.
"Menninger is synonymous with quality mental health care, strong community involvement and corporate citizenship," he said. "The Menninger leadership team dedicated a great deal of time and effort to determine what is best for the organization's future."
Menninger said he had mixed emotions about leaving Kansas.
"I regret that we have to leave part of our roots here," he said.
---
Staff writers Dave Ranney and Erwin Seba also contributed to this report.
MORE: www.menninger.edu
Copyright 2018 The Lawrence Journal-World. All rights reserved. This material may not be published, broadcast, rewritten or redistributed. We strive to uphold our values for every story published.