Philadelphia — Parents across the country have been sending their teens back to school, and now the bills are coming back home.
Binder ($5): Check.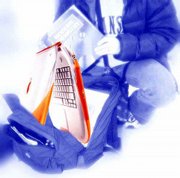 Bookbag ($40): Check.
Graphing calculator ($90): Check.
Laptop computer ($2,000): Yikes!
Teachers say more and more students are toting laptops in their bookbags these days. Already accustomed to hours in front of the family desktop at night, students want a keyboard at their fingertips during the school day.
"I write all of my notes on it. I don't have to worry about pens or paper," Charlene Smith, 17, a senior at Willingboro High School, said of her iMac laptop. Besides, she said, "the school's computers are kind of outdated. They're not what us kids are using today."
Technology-savvy students often demand more and better equipment than most districts offer.
"I've had high school juniors come in with laptops and Palm Pilots," said John Scarici, technology guru for the Cherry Hill School District in Cherry Hill, N.J. He terms his schools' equipment "remarkable."
Nonetheless, he said, "we have students with their own video cameras they load video files into their laptops, and do their mixing and editing right there."
Only a few students so far have the high-priced gadgets, he said. "The same number of students who used to come with slide rules are carrying this kind of technology."
But Scarici and other teachers expect the numbers to increase, as students along with their parents and teachers become even more dependent upon computers.
"I write all of my notes on it. I don't have to worry about pens or paper."
Charlene Smith, Willingboro (Pa.) High School senior
Laptops not common here
Laptops haven't yet become standard accessories in the backpacks of high school students in Lawrence, Kan., say educators with Lawrence public schools.
"I haven't seen (students with their own) laptops. We have so many computers in the building that, for a lot of kids, it's probably not worth the hassle to bring one," says Ted Berard, associate principal at Free State High School, 4700 Overland Drive.
He estimates that there are about 300 computers each with Internet access at Free State that students can use.
"If I was a kid, knowing the access to computers that I have here, it probably wouldn't be worth my time to bring a laptop. But that's not to say it couldn't happen," Berard says.
It's a similar situation at Lawrence High School, 1901 La.
"The fact that we have computers here that students have the use of kind of offsets any need for laptops. Every room has a computer, plus we have three labs with at least 20 computers in each," says Mike Browning, associate principal at LHS.
"I could see laptops here as a possibility. When I think about college students, it's just a (common) tool for them anymore."
The number of computers in the nation's schools exploded from 250,000 in 1983 to 8.6 million two years ago, according to a 1998 study by the Consortium for School Networking, a group that promotes telecommunications use at schools.
Many school districts have Web sites that students and their families can check to learn about the schools' classes, sports and extracurricular activities.
Radnor High School's Web site, for instance, displays everything from school lunch menus to information on the girls' soccer team. In addition, said Radnor's Joan Cusano, several teachers have begun using the site to post homework assignments and other information.
That way, when a student says straight-faced that there's no homework, parents can double-click their way to the truth.
Power in their hands
Radnor also is considering equipping its teachers with Palm Pilots, as an alternative to lugging bulky paperwork, or even laptops, home from school at night, said Cusano, who is the district's director of instructional technology.
Those teachers could likely pick up pointers from their students on how to use the new technology, she said.
"The students are most definitely ahead of their teachers," she said. "For starters, they have more free time" to figure it all out. In addition to using e-mail to gab with their friends, students will swap information on homework assignments or school projects. Instant messaging lets groups of students work together on a project without having to gather, she said.
Copyright 2018 The Lawrence Journal-World. All rights reserved. This material may not be published, broadcast, rewritten or redistributed. We strive to uphold our values for every story published.