Lisa Dixon was ecstatic between sets at Lawrence High's triangular on Wednesday at Lawrence Tennis Center.
Her playful attitude transformed to concentration as she cruised to an 8-3 victory over Shawnee Mission Northwest's Tina Gray in No. 1 singles.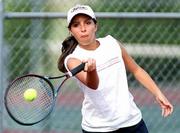 The victory sparked LHS to a 3-1 victory over Shawnee Mission Northwest. The Lions also blanked SM West, 4-0.
Dixon led 4-0 over Gray only to see the Northwest player rally to win three of the next four games. Up 5-3, Dixon closed out the match.
"I made a lot of mental mistakes, but that's no discredit to (Gray)," Dixon said. "I calmed down and took each ball as it came to me, and got back into the game,"
Sarah Collins won her singles match, 8-6, against the Cougars. Lawrence's Lori Lemesany and Becca Fritzel teamed to win No. 2 doubles, 8-2.
Against SM West, Maria Salcedo and Erin Morgan won in singles. Katherine Wells and Abby Olson won No. 1 doubles. Ashley Knight and Nicole Henry won No. 2 doubles.
"Katherine and Abby did a good job beating a persistent team at No. 1 doubles," LHS coach Dick Wedel said. "Just last night Ashley and Sara (Olson) beat them handily."
The Lions improved their dual record to 4-6-1 with the sweep.
Next up is the Sunflower League meet on Tuesday at SM East in Prairie Village.
Wedel hasn't settled on a lineup.
"It is going to be tough to decide on our two best doubles teams," Wedel said. "I'm really pleased to see that we are playing our best tennis at the end of the season. I think the girls were pumped today. It was our last home match for our seniors. There was a nice crowd at the courts. Everyone really wanted to win today."
Copyright 2018 The Lawrence Journal-World. All rights reserved. This material may not be published, broadcast, rewritten or redistributed. We strive to uphold our values for every story published.