Don't expect Kansas University sophomore Nick Collison to declare for the NBA Draft anytime soon.
"I know right now if I left early people would think I was crazy, so I don't even think about it now," said Collison, a 6-foot-9, 255-pound forward from Iowa Falls, Iowa, who is expected to play three or a full four years at KU.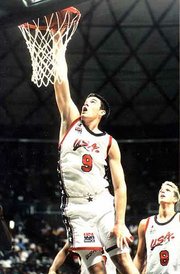 "Playing against those guys a week has made me confident I can play at that level some day," Collison said. "They aren't totally unbelievable, but they showed me a lot of things I need to do."
"Those guys" are members of the U.S. Olympic Men's Basketball Team.
Collison scored two points and grabbed three boards while logging nine minutes in the U.S. College Select Team's 111-74 exhibition loss to the Olympians on Sept. 2 in Honolulu.
He scrimmaged against the Olympians the week leading up to that game, holding his own while learning it will take a lot of work to excel in the pros.
"If you thought you had it figured out before you went there, you know you don't any more," Collison said. "I see I've got a long way to go.
"(My) jump shot, ballhandling, strength, speed. I mean they are the best players in the world. They are going to be a lot better than I am at 19. I've always known I need to improve to play on that level. You go against those guys, you see it."
One must be a scoring machine to thrive in the NBA.
"When those guys are open, they don't miss," said Collison, who averaged 10.5 points on 49.7 percent and 6.9 rebounds in a solid frosh season.
"Antonio McDyess (6-foot-9 Denver Nuggets forward) is probably the worst shooter on that team. When he's open he can still knock down the shot. I have been working on my jump shot, facing the basket a lot."
Collison says the NBA's finest players were willing to work overtime during the week in Hawaii.
"After practice, Ray Allen was shooting jumpers. Alonzo (Mourning) and Shareef Abdur-Rahim were running sprints. They were all icing and taking care of their bodies," Collison said.
Collison he averaged 8.8 points and 7.2 rebounds in July for the silver medal winning U.S. World Championship of Young Men qualifying team took a break after returning from paradise.
"My legs were sore. Coach (Roy) Williams told me to take two weeks off," said Collison, who has tendinitis in his left knee that might require anti-inflammatory medication during the season. "I'm fine. I'm jumping better now. I think I'm faster now (than last season)."
He said the break was for physical reasons only. A summer full of basketball didn't burn him out mentally.
"I only played in Hawaii a week. I'd have been doing that here. It was just different scenery a lot better scenery," he said of the beach. "I took a week or two off this summer after going to Brazil (with qualifying team). I needed it more then."
He's been lifting weights and playing in pick-up games three days a week. He's gained 15 pounds since the end of his rookie campaign.
"A lot of guys are playing well. No one is totally amazing. Everyone is better I think," Collison said, noting senior Kenny Gregory appears to have improved his outside shot. "Kenny is making everything. The seniors are stepping up Kenny, Eric (Chenowith) and Luke (Axtell), plus Jeff Carey (fourth-year junior)."
Practice starts on Oct. 13.
"If starting is that big a deal to people, it's going to be competitive," Collison said of practice. "I think it is deep down. Then again if you don't start, you are still going to play a lot of minutes. We've got a lot of talented players on this team."
Recruiting: Keith Langford, a 6-2 shooting guard from Fort Worth, Texas, who committed to Mississippi several weeks ago, tells Dave Telep of Rivals100.com he has reopened his recruiting. He said he will visit Oklahoma and may visit Kansas.
Jamal Sampson, 6-10 from Santa Ana, Calif., tells Rivals100hoops.com California and St. Louis are his current leaders over Kansas and UConn. Sampson is to visit Saint Louis this weekend and KU on Oct. 13. He'll visit Cal either Oct. 6 or 21.
Copyright 2018 The Lawrence Journal-World. All rights reserved. This material may not be published, broadcast, rewritten or redistributed. We strive to uphold our values for every story published.