Radio Shack and Microsoft are expanding their partnership to offer high-speed service either using digital subscriber lines (DSL) or two-way satellite. The partnership was announced Wednesday in New York by Rick Belluzzo, left, vice president of the Personal Services and Devices Group at Microsoft, and Leonard Roberts, chairman, president and chief executive officer of RadioShack.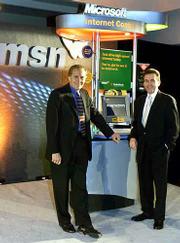 Retail
Eddie Bauer enters downtown market
Eddie Bauer opens its first Lawrence store this morning.
And it can't come a minute too soon.
"This past week, we've probably had a 100 customers come up and pull on the doors," said Ken Gillaspie, manager of the new store at 643 Mass.
The doors will be unlocked at 10 a.m., ushering in the latest national retailer to enter the downtown market. The store occupies 6,000 square feet.
Gap plans to relocate to 15,000 square feet next door by Thanksgiving, and American Eagle is preparing to move into the former Toy Moon at 619 Mass. Construction of a new Talbots store is ongoing around the corner at Seventh and Vermont, set for an opening early next year.
Telecommunications
Upgrade to 'buy' sparks increase in Sprint shares
Sprint shares moved up $1.94, or 8 percent, to $26.94 Wednesday after CIBC World Markets upgraded the long-distance phone company to a "buy" rating from a "hold."
Sprint shares have been roughed up in the past two weeks after it warned that third-quarter sales and earnings would fall short of expectations.
After moving up to a 52-week high of $75.94 in November, the stock plunged to a low of $24.31 earlier this month.
On Sept. 12, Kansas City-based Sprint said it would post third-quarter earnings of between 45 cents and 47 cents a share.
Alliance
America Online taps into Japanese market
America Online, the world's largest Internet service provider, is allying with Japanese cellular phone giant NTT DoCoMo in a $100 million deal that will give AOL greater access to the prized Japanese market.
The companies said Wednesday in announcing the deal they also plan to develop services linking personal computers and mobile phones with an eye toward marketing them internationally.
Under the pact, NTT DoCoMo will pay $100 million for a 42.3 percent stake in AOL Japan making it the company's largest shareholder. AOL Japan, currently 50 percent owned by AOL and 40 percent by Japanese trading house Mitsui and Co., has been having difficulty attracting subscribers.
Earnings
DaimlerChrysler warns of Chrysler loss
DaimlerChrysler AG warned Wednesday that its Chrysler side would report a loss for the quarter because of high U.S. incentives and the costs of launching new versions of its minivan and mid-size sedans.
After posting a third-quarter profit of 1 billion euros last year, the Chrysler group will report a loss of 600 million euros ($531 million) for the quarter this year.
For 2000, DaimlerChrysler's overall operating profit will fall to about 7 billion euros ($6.2 billion), down from 10 billion euros in 1999 after adjusting for one-time charges, it said.
Media
Sky Global Networks lands $500 million
Rupert Murdoch is shoring up his satellite subsidiary Sky Global Networks ahead of an initial public offering in a multi-layered deal with cable pioneer and close friend John Malone.
Under terms of the deal announced Wednesday, Malone's Liberty Media Corp. will swap its 21 percent stake in Gemstar-TV Guide for equity in News Corp. and Sky Global. Malone will also invest $500 million in Sky Global once it goes public, resulting in a total stake of about 6 percent in the satellite subsidiary.
Markets
Stocks fall on profit concerns
Stock prices fell Wednesday, failing to rebound as investors concerned about third-quarter results once again punished the shares of poor performers.
But the decline could have been much worse. Bargain hunting in the last half hour helped some battered issues stage a mild recovery, allowing the Dow Jones industrial average to almost break even and limiting the size of the Nasdaq composite index's drop.
The Dow closed down 2.96 at 10,628.36 after dropping more than 50 points during the day. It fell 176 points on Tuesday.
The Nasdaq dropped 32.80 to 3,656.30, its fifth straight decline, after spiking into positive territory earlier in the day.
Copyright 2018 The Lawrence Journal-World. All rights reserved. This material may not be published, broadcast, rewritten or redistributed. We strive to uphold our values for every story published.