New York — The tailgating foodfest has become so big, it's part of football game ritual, especially at college games, says chef Bobby Flay.
It's very competitive, too, he adds in an interview, as people get more enthusiastic and ambitious in their provisions. "The bigger the game, the more competitive the tailgating. They bring along every kind of equipment, from tiny portable grills to huge smokers."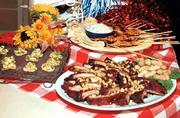 Flay, known for his two Manhattan restaurants, Bolo and Mesa Grill, as well as TV shows and cookbooks, suggests using bold, flavorsome recipes for the occasion. He also has some forthright advice:
"Be very organized," he said briskly. "Don't wing it. Make lists. Make sure all your equipment works and that you are familiar with it."
You don't want to have to muddle through disasters and delays, he says after all, games' starting times impose some limits here.
"As for the food, stay within your cooking ability but don't be afraid to try some new ideas."
For a look at tailgating and fan activities during KU football homegames, see kusports.com's
On the 50,"
by Ryan Ritter, ljworld.com's sports content manager.
Asked for his favorite tailgating food, what he'd choose to bite into, he doesn't hesitate: lamb chops.
"They're so easy to eat, like little lollipops. I like to use some honey, fresh horseradish, balsamic vinegar and fresh mint to brush them with, then to use as a baste as I grill them."
To please a hungry party of friends, Flay suggests any or all of the three following recipes. They are flexible enough to adapt to individual timing, taste and cooking equipment.
Bobby Flay's BBQ Ribs With Peanut Chipotle Sauce and Peanut-Green Onion Relish
For recipes and information on a tailgate cook-off contest that will be judged by chef Bobby Flay, go to www.tostitos.com.


Peanut Chipotle Sauce:
8-ounce bottle barbecue sauce
1/4 cup smooth peanut butter
1/4 cup soy sauce
2 tablespoons rice wine vinegar
2 teaspoons pur canned chipotle
1 1/2 tablespoons honey
Peanut-Green Onion Relish:
2 cups roasted peanuts, coarsely chopped
1/4 cup finely sliced green onion (see note)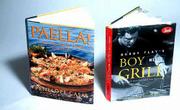 1/4 teaspoon ground cinnamon
1 teaspoon finely grated ginger
1 teaspoon sugar
the Ribs:
1 cup soy sauce
2 cups water
4 tablespoons coarsely chopped fresh ginger
2 racks of pork ribs (12 ribs each)
For the Peanut Chipotle Sauce: Combine barbecue sauce, peanut butter, soy sauce, vinegar, chipotle and honey. Mix well and reserve. May be stored in the refrigerator for up to 4 days.
For the ribs: Preheat oven to 400.
In a saucepan over medium-high heat, combine the soy sauce, 2 cups of water and the ginger and bring to a boil. Pour the mixture into the bottom of a roasting pan and place the ribs on a rack in the pan. Brush with the Peanut Chipotle Sauce.
Place in the oven and bake for 1 1/4 to 1 1/2 hours, basting every 15 minutes.
For the Peanut-Green Onion Relish: Combine all ingredients in a bowl, just before serving.
Note: Do not prepare more than 1 hour ahead of time because the onions are very perishable; add the peanuts immediately before serving.
Remove ribs from the oven and cut into single ribs, place on a platter and sprinkle with the Peanut-Green Onion Relish.
Cook's note: You can also remove the ribs from the oven and grill for a few minutes on both sides. This will give more flavor and color and a crispier finish; it will also reheat the ribs if you wish to make them ahead.
Makes 4 servings.
Bobby Flay's Grilled Shrimp Tortilla Rounds


1 pound medium shrimp, shells removed and deveined
4 tablespoons olive oil
Salt and freshly ground black pepper
2 ripe avocados, peeled, pitted and finely chopped
1/4 cup finely diced red onion
1 jalapeno pepper, finely diced
1/4 cup freshly squeezed lime juice
1/4 cup coarsely chopped fresh cilantro
1/2 cup crushed tortilla chips
24 bite-size round tortilla chips
24 cilantro leaves
Preheat grill to high. Toss the shrimp in 2 tablespoons of the olive oil and season with salt and pepper to taste. Grill the shrimp for 1 minute on both sides, or until cooked through. Remove the shrimp to a cutting board and coarsely chop.
Combine the shrimp, 2 remaining tablespoons olive oil, avocados, onion, pepper, lime juice, cilantro and crushed tortilla chips in a medium bowl and season with salt and pepper to taste. Place a heaping tablespoon of the mixture on each tortilla chip round and garnish with cilantro leaves. Serve immediately.
Makes 8 servings.
Red Hot Marinated Chicken Skewers With Yogurt Cilantro Sauce


Red Hot Marinade:
2 teaspoons chili de arbol chili powder (see note)
1 teaspoon cascabel chili powder
1 teaspoon cayenne pepper
2 tablespoons ancho chili powder
1 tablespoon cumin seeds, ground
1 tablespoon honey
1/2 cup olive oil
2 cups orange juice
8 chicken thighs, skinless and boneless, cut in half lengthwise
32 wooden skewers, soaked in water for 2 hours
Salt to taste
Sixteen 6-inch flour tortillas
In a large bowl, combine chili powders, pepper, ground cumin seeds, honey, olive oil and orange juice to make the marinade. Rub the marinade into the chicken thighs. Cover the chicken and refrigerate for 4 to 6 hours or overnight.
Prepare a charcoal or wood fire and let it burn down to embers, or preheat the broiler.
Thread each half chicken thigh onto 2 parallel skewers to keep the meat flat on the grill. Season with salt and grill for about 4 minutes on each side, or until cooked completely. Grill each tortilla for 1 minute on each side. Serve skewers on a platter with the Yogurt Cilantro Sauce (recipe follows) and folded grilled tortillas. The chicken may be made ahead and reheated on the grill.
Note: Flay says you can substitute equivalent amounts of any very good quality chili powder if varieties named above are not available.
Yogurt Cilantro Sauce


1 cup plain low-fat yogurt, drained in a colander for 1 hour
2 tablespoons cilantro, finely chopped
2 cloves garlic, minced finely
1 tablespoon lime juice
Salt and freshly ground pepper
Combine all ingredients in a medium bowl and season with salt and pepper to taste. Let sit at least one-half hour before serving.
Makes 8 servings.
Copyright 2018 The Associated Press. All rights reserved. This material may not be published, broadcast, rewritten or redistributed. We strive to uphold our values for every story published.