Sargans, Switzerland — Its name may conjure images of an amusement arcade with model Heidis, cuckoo clocks and chocolate bars, but in reality Heidiland is an unexpected treasure of Alpine foothills and peaks, deep lakes and lovely villages.
In short, it's scenery that inspired Johanna Spyri's "Heidi," the enduring and endearing children's classic about life in the Swiss Alps, but which was little known even within Switzerland until it was controversially repackaged under the banner of the nation's heroine.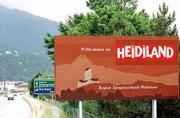 "We had to stop people driving straight through on the highway and we did that with Heidiland," says Urs Kamber, a former national 400-meter track star and marketing whiz who introduced the Heidiland concept against considerable opposition in 1997.
"At the start, local people were afraid we were building up a plastic Heidiland for mass tourism," Kamber says. "But now they increasingly realize that we're selling something that has been here for a long time, just with a new wrapping.
"The title is provocative, but it's working," adds Kamber.
Kamber says young families are replacing aging Swiss clientele in the Heidiland area, hotel occupancy rates are rising in an otherwise stagnant market, and that growing numbers of foreign visitors are making special trips or interrupting their journey between Zurich and established tourist magnets like St. Moritz and Klosters in eastern Switzerland.
Business from Japan has far outstripped anticipations, rejoices Kamber, and tourism officials plan to launch a drive aimed at smaller U.S. tour operators forcing conservative locals reluctantly to learn English.
"If you love skiing in winter, hiking and biking in summer; if you cherish peace and relaxation; if you are looking for an area which offers something for all seasons; if you like your water from bubbling streams or still mountain lakes; then you've come to the right place," gushes the Heidiland tourist blurb.
Included in Heidiland's embrace are 32 villages in an area of 24 square miles within easy reach of the Swiss city of Zurich, Lake Constance on the German border, and the tiny principality of Liechtenstein.
Plenty of spas
The best-known resort is Bad Ragaz, an elegant spa village in bucolic surroundings with sumptuous hotels whose thermal waters helped relax and revitalize author Spyri between 1872 and 1887 and still draw the well-heeled from around the world.
The five-star Quellenhof boasts its own 18-hole golf course and pampers its visitors with beauty and fitness treatments coupled with gourmet but healthy cuisine.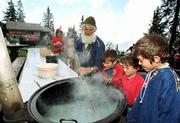 The nearby Tamina Gorge is another attraction. Walensee, said to be one of the cleanest, deepest lakes in Europe, is surrounded by enchanting small villages such as Quinten, which snoozes in a subtropical climate and is reachable only by boat or on foot.
Flumserberg is a popular ski resort in winter and a base for hiking and biking in summer. It offers high-altitude (6,600 feet) walks accessible to wheelchairs and strollers. Tannenboden, a small village on the mountain, has a traditional Alpine cheesery which invites visitors to make their own cheese and then mails it to them after the requisite three-month maturing period.
Pizol, another popular ski resort, is well known for its sunshine and its 4.7 mile toboggan run, conveniently starting and finishing at a local mountain railway.
The town of Sargans, the administrative "capital" of Heidiland, features a 13th-century castle with a fine museum. It's also a base for excursions for those wanting a peek at the ruling prince's castle in Liechtenstein (population 32,000) and the novelty of a Liechtenstein stamp in their passport.
Catering to the fans
Although Heidi is fiction, the Heidiland area was what Spyri had in mind when she wrote the two-volume novel published in 1880-1881. She even used a few real place names.
True Heidi addicts head for the "original" Heidi House in Heidi's Village, otherwise known as Maienfeld, a lovely little town which until recently made its living from its fine wines.
"I read the Heidi book as a child and watched the Heidi television series like most other children of my generation," says 31-year-old Nozomi Arai, one of the many Japanese visitors enjoying the stunning views around the Heidi Village.
"The air is so pure here and the mountains so green," she sighs.
But for a variety of political and geographical reasons, Maienfeld is not technically part of Heidiland and instead associates itself with the sunny wine-growing regions of Graubuenden.
The Heidi House was opened in 1998 after local authorities were able to buy it from a private owner. It comes complete with a model Heidi, her goatherd friend Peter, and a grandfather look-alike, as well as "authentic" trappings like a plate of half-eaten muesli.
Its shop sells Heidi T-shirts, umbrellas, videos and of course books, as well as small bags of feed for the Heidi hens and Heidi goats nuzzling on Heidi Mountain.
Hans-Juerg Muentener, president of Heidi Village, expects 60,000 visitors this year, up from 40,000 last year.
"Heidi is an idol. She symbolizes our yearning for an ideal world of peace and tranquility lost in today's stress and pressure," Muentener says.
Cashing in
It is the image of purity and cleanliness that Heidilanders hope to exploit for all its worth.
Heidiland cosmetics like Glacier shower gel will go on sale in Japan this fall with packaging bearing the logo of a small girl pulling a goat. Kamber says the toiletry range will contain products such as honey, goat milk and herbal perfume from Heidiland.
There are also plans to export Heidiland water, bottled from local springs, to Japan.
"Some people argue it doesn't make sense to export water across the ocean," Kamber says. "But it's just like us importing wine from the United States. It's a fact. It happens.
Talks are under way with a U.S. company to produce Heidiland candies. The idea is that Switzerland would export a Heidiland herbal mix to the United States to use in the manufacture of candies.
Farther down the line are plans for Heidiland chocolate, vegetables and cheese, Kamber says.
With the 100th anniversary of Spyri's death looming next July 7, and a new Heidi movie in the making, the Heidi hype looks set to heat up.
Copyright 2018 The Associated Press. All rights reserved. This material may not be published, broadcast, rewritten or redistributed. We strive to uphold our values for every story published.