Just when summer flowers have exhausted the last of their beauty, along come the fall bloomers. They renew the garden with color and fragrance giving weary gardeners one last burst of energy before our gardens are delivered into the hands of the approaching winter.
Arguably, the most recognized fall blooming flowers are mums. With more than 20 species, the hardy perennial can easily find a spot in any garden that has slightly acidic well-drained soil and plenty of sun.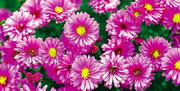 Mums are grown primarily for their showy flower heads. A multitude of flower forms gives variety to this fall bloomer. Fully rounded pompom style contrast with the looser-shaped spider flower head, which drapes gracefully from the stems. The flower head with a regular incurve has a tightly packed fully double shape while the brush or thistle variety produces single flowerheads with a fine upright display. Most flowerheads are a few inches in diameter, although some species span nearly 12 inches across.
Mums are easy to grow, yet require a little gardening know-how for best results. For compact bushy plants, the growing tips of mums should be pinched back when the plants reach a height of approximately 6 inches in the spring.
This horticultural practice encourages side growth on the plant and increases blooms. Pinching back may be repeated a second time but not past the middle of July. At that point, the plant begins to develop its flower buds.
Mums need plenty of water during dry spells and fertilizer as their buds begin to develop. Typically, mums grow well past the first light frosts of fall, succumbing finally to hard frost. At that time, the spent stems should be cut back to a height of a few inches and mulched to protect their shallow roots from the ravages of winter cold.
Aster is born
Often overlooked by American gardeners, even though many varieties are native to North America, are the asters. These fall blooming beauties produce delicate star-shaped or daisy-like flowers with yellow centers. Their blooms are typically 1 inch to 2 inches in diameter in colors of purple, blue, pink and white, as well as blends. Small dark green leaves run along the length of their stems. Asters such as the Italian aster, aster amellus and 'King George,' reach a height less than 2 feet. Others, such as aster tataricus, may grown as tall as 5 feet. Taller varieties may require staking.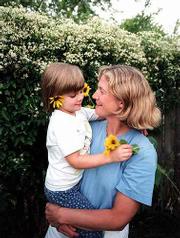 Like mums, asters can be cut back in spring to encourage bushiness. Asters can be grown in sun or partial shade and make excellent cut flowers.
After bloom, they become prolific seed producers, much like dandelion-heads. Winds disperse the seeds throughout the garden where they remain during the winter. The favorable conditions of spring bring many seeds to life. Deadheading picking the flowers before they go to seed will eliminate unwanted random germination throughout the garden.
Unlike mums, which have heavy feeding requirements, asters are satisfied with one application of compost or slow-acting fertilizer in spring. Although they appreciate a drink of water during the summer, asters will not survive in wet soil during the winter.
Days of vines and crocus
For unforgettable fragrance, plant clematis terriflora, also known as sweet autumn clematis. This deciduous or semi-evergreen vine produces masses of tiny (less than 1 inch) white star-shaped flowers that completely cover the plant. Sweet autumn rapidly climbs over fences or trellises. True to its name, sweet autumn clematis fills the air with a highly aromatic fragrance. Once the flowers have faded, attractive seed heads follow.
To take advantage of its sweet perfume, plant it near a patio, deck or open window. However, it loves sun and performs best basking in bright light.
Finally, for everyone who thought the blooms of bulbs were only for spring, think again. Several bulbs bloom in the autumn. If you want to try your hand at fall flowering bulbs, consider planting hardy cyclamen or autumn flower crocuses, such as crocus banaticus or crocus goulimyi. Both may produce fragrant blooms that will charm an otherwise fading garden.
We gardeners have weathered a rough growing season, one that was filled with an abundance of heat and a scarcity of rain. Autumn promises a respite from both adverse conditions. All the more reason to enjoy the flowers of fall.
---
Carol Boncella is education coordinator at Lawrence Memorial Hospital and garden writer for the Journal-World.
Copyright 2018 The Lawrence Journal-World. All rights reserved. This material may not be published, broadcast, rewritten or redistributed. We strive to uphold our values for every story published.