When it comes to happy endings, Jacob Jackson couldn't write a better script.
The film major at Kansas University looks forward to the latest chapter in the renovation reel at the Kansas Union: A high-speed computer lab and late-night convenience store to go with a private copy center on the main level.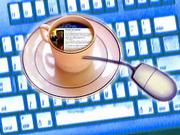 All by the beginning of next semester.
"For me, it'll be perfect," said Jackson, a coffee lover who used a graphing calculator to do his math homework last week in the lobby. "There are things I need to look up right now, but I don't have time to go home or find a computer to do that.
"But this will be here at my convenience. I can log on and find out what I need. I'll buy dinner and get coffee here every day. It's exactly what I need."
The union's $200,000 upgrade isn't the only one expected to cash in on the community's growing reliance and fascination with computers, Internet hookups and on-the-go services.
Alongside a computer shop downtown, Nader Shami is busy turning a former office space into Lawrence's first full-fledged cybercafAnd just down the block, Java Break is running three Macintosh computers to help students and visitors write papers or simply surf the Web, all while enjoying a cup of specialty-blend joe.
Talk about a high-speed buzz.
"It doesn't take a genius to figure out what students are telling you they want," said David Mucci, director of the Kansas and Burge Unions. "It's pretty straightforward. The trend on campus these days, like in the rest of the world, is people are looking for grab-and-go, quick service."
Mucci has plans for 50 computers both PCs and Macintoshes to be plugged into a new lab just inside the front door of the Kansas Union, right off Jayhawk Boulevard. The move comes after a recent unsuccessful attempt to close the Jaybowl bowling alley and replace it with computers and other services.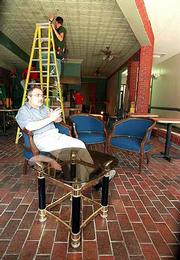 The new plan, for the main lobby, will turn administrative offices into an around-the-clock, high-speed computer lab for KU students, faculty and staff. Nearby, the current information counter will become the Hawk Shop convenience store, complete with coffee, sandwiches, salads and other "essentials" for people on the run, Mucci said.
Mail Boxes Etc. will extend its hours to handle printing and copying needs of people using the computer lab. The union's main lounge will remain for relaxation and socialization.
"The idea is just to facilitate people who have no other options other than the fast and now," Mucci said.
Others are betting the concept will work off-campus.
Downtown cybercaf
Shami's new Cafova, at 745 N.H., will serve up nine PCs with high-speed Internet service. The IBM compatibles, built by Central Data Computer Systems, feature high-speed processors, 128-megabyte hard drives, 19-inch monitors and a $1,700 sticker prices.
Shami, who owns the adjacent Central Data store, will offer up use of the computers in the cafor free to customers buying cappuccinos, cafatt croissants and other items.
He expects the mix to help boost sales at his computer store, plus set him apart in downtown's competitive coffee market.
"People like to try different coffee places all the time," said Shami, who hopes to open by week's end.
"If you keep going to the same one or two every time, you get bored. With a cup of coffee in your hand, and you're watching something on the computer, it takes the boredom away."
Shami said he might charge for computer use in the months ahead, and possibly charge for membership. But for now he hopes simply to create a buzz.
"They can use the computer as long as they want, and we'll sell more coffee," he said.
Competitive environment
Java Break, 17 E. Seventh St., has run its own cybercafor two years now. Three Macintoshs line a wall, available for use at $6 an hour, or 10 cents a minute.
Hogan recycled the computers from his former magazine company and has plugged them into Sunflower Datavision's Internet service. The computers get used about four hours a day, mostly by travelers wanting to check their e-mail while making their way through town.
The cybercafhenomenon may be wildly popular in Europe, but Hogan doesn't see the concept taking off in Lawrence. He prefers to rely on his coffee blends, grilled paninis and desserts.
"We have more coffee shops in downtown Lawrence than any college town, period," he said.
"I can't imagine it being a moneymaker here. I'm just using it as a service to my customers, one that was easy to add."
Copyright 2018 The Lawrence Journal-World. All rights reserved. This material may not be published, broadcast, rewritten or redistributed. We strive to uphold our values for every story published.