A Lawrence man died Friday morning after trying to cross a busy North Lawrence road.
Lawrence Police Det. M.T. Brown said Roger Borland, 53, was pronounced dead after the 7:30 a.m. accident in front of the Total service station at 1010 N. Third St.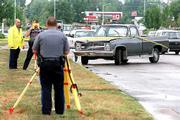 "Evidently, he was crossing the street and was struck by a (pickup) truck," Brown said.
Borland did not die at the scene, Brown said, but was taken to Lawrence Memorial Hospital.
Brown said investigation was continuing.
He had little information about the accident, including whether the pickup driver was issued any citations.
Brown did say Borland was from Lawrence, but there was no telephone listing for him, and funeral homes said they knew nothing of his history.
The accident scene is two blocks south of where Interstate 70 exits into North Lawrence. The road is typically busy, particularly during commuting hours.
Mike Harding, an examiner at the nearby driver's license bureau, said Friday morning's light rain probably didn't help.
"It was in the morning, and it was starting to rain, so the drivers were sliding a little bit," Harding said. "There was a long skid mark, and the truck was dented pretty good."
Copyright 2017 The Lawrence Journal-World. All rights reserved. This material may not be published, broadcast, rewritten or redistributed. We strive to uphold our values for every story published.