Kansas City — Lightning engulfing the area Friday night forced the postponement of the Lawrence High-Kansas City Washington football game.
The game has been rescheduled for 1 p.m. today at Washington.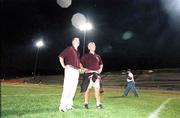 "I've never had one postponed before," said LHS head coach Dirk Wedd as lightning crackled. "It comes down to safety for the kids of course. Lightning is one to three miles away and you can't play in those conditions."
Friday's game, scheduled to kick off at 7 p.m., never started. While the Lions and Wildcats warmed up, Washington athletics director William McClendon ordered the players off the field 25 minutes before game time. McClendon also urged spectators to take shelter.
McClendon considered starting the game at 8 p.m., but after huddling with LHS administrators, McClendon officially called the game at 7:10 p.m.
LHS athletics director Ron Commons relied on his SkyScan lightning detector before meeting with McClendon.
"The big reason was the severity of the lightning," Commons said. "The lightning detector we have lit up numerous times from 0 to 3 (miles) and 20 to 40. It was like a Christmas tree lighting up."
Commons, now in his seventh year as the Lions' AD after a long stint as an LHS football aide, couldn't recall an LHS football game being postponed.
"I think there was one several years we probably should have (postponed)," Commons said.
How did LHS players spend their time in the locker room during the 30-minute lull while awaiting for an official announcement?
"We did a little chalk talk and basically had them thinking about their assignments," Wedd said. "You're kind of flying by the seat of your pants when you're in this situation."
Washington is approximately 50 miles from Lawrence.
McClendon said fans with ticket stubs from Friday's game will be readmitted free today.
LHS and Washington are both 2-1. The two schools haven't played each other since the 1985 Class 6A state quarterfinals.
Copyright 2018 The Lawrence Journal-World. All rights reserved. This material may not be published, broadcast, rewritten or redistributed. We strive to uphold our values for every story published.