Olathe — Free State High's football team is no stranger to severe weather.
Actually, the Firebirds probably were glad their game Friday night with Olathe East was postponed because of lightning considering the alternative.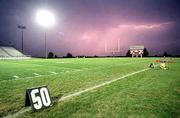 "It was a long, drawn-out affair," FSHS coach Bob Lisher said of the Firebirds' last weather-hampered game, a 14-6 victory over Leavenworth in 1998 at Haskell Stadium that lasted five hours and five minutes thanks to three rain delays totaling three hours and 13 minutes.
Free State and Olathe East will try to play their Sunflower League game again today.
Kickoff is noon at Olathe District Activities Center.
Friday night the ODAC field was cleared five minutes before the scheduled 7 p.m. kickoff because of an amazing lightning display throughout Olathe and the surrounding area.
It was evident within minutes that a storm front was rolling in and the game would have to be postponed, but an official decision wasn't made until 7:15 p.m.
"Usually, if it's in the area, our policy is to wait 20 minutes and re-evaluate the situation," said FSHS athletics director Steve Grant, who was involved in the decision-making progress with Olathe East AD Ryan Ralston and both coaches.
"If it's still in the area, we'll usually cancel it."
Grant certainly recalls the '98 Free State-Leavenworth game.
"That Leavenworth game a couple of years ago we waited and waited and waited," Grant said. "It was one of those deals that we felt we had to get it in on that day. That was a Saturday, and we couldn't play on Sunday and didn't really want to wait until Monday to play.
"And then I remember it kind of really did a number on the ol' extra-duty budget," he quipped.
The Free State coach also had vivid memories of the water-logged affair.
"Extremely muddy and nasty," Lisher said. "It wasn't a lot of fun other than we won the game."
Against the Pioneers, Free State's coaches had to deal with keeping the players in the right frame of mind to play during the lengthy delays.
Now, after spending the day getting themselves mentally and physically prepared to play, the Firebirds and Hawks will have to do it all over again today.
"It could be good and bad. You just never know until you show up to play," Lisher said. "It's the same for both teams so whichever team can handle it will be OK. I don't think it's going to be that big of a deal. You've still got to show up and play a varsity football game."
It's their party:
Olathe East will celebrate it's homecoming today against Free State, something the Firebirds have encountered more than once.
"We've done it a few times in the past," Lisher said. "We just show up, do our best and maybe put a damper on their homecoming."
Injury update:
Senior offensive lineman Craig Brewer (shoulder), junior left guard/nose guard Travis Karr (quadriceps strain) and junior center/inside linebacker Jeremiah Gress (shoulder) all are expected to play today.
Up next:
The Firebirds are playing the first of three straight games against the Olathe Triumvirate. Free State will play host to Olathe North next Friday at Haskell Stadium.
"We all understand that it is going to be a tough three weeks," Lisher said. "But each one of these weeks we want to get better at what we do so that we're competitive with each one of these teams. Obviously we're going to be underdogs going into these three games, but that just makes it a little more challenging for our guys."
Copyright 2018 The Lawrence Journal-World. All rights reserved. This material may not be published, broadcast, rewritten or redistributed. We strive to uphold our values for every story published.