Quinton's adds location, parking on 23rd Street
When downtown construction squeezed parking near his downtown bar, Steve Gaudreau decided to give his loyal customers another place to go.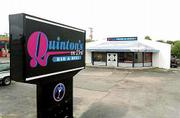 So he opened another bar.
"They couldn't find a place to park. The parking is nonexistent (downtown)," said Gaudreau, who opened his new place, Quinton's on 23rd, last week. "It really hurt my business down there."
But the new place in the former home of Dasko's, 1730 W. 23rd, which has its own parking lot is starting to make up for it.
The new Quinton's this week raked in more food sales than the downtown bar and deli, which opened in 1991, Gaudreau said. Food sales also are up 400 percent compared with Dasko's, which he started in July 1999.
The new Quinton's features an expanded menu: all the traditional sandwiches and soups from the downtown Quinton's, plus the honey-roasted chicken and other salads from Dasko's.
Downtown
Abe & Jake's Landing open after decade of work
After a decade of renovations and more than $2 million of investment, Mike Elwell is happy to finally sell a beer.
Abe & Jake's Landing, Elwell's labor of love since taking over a former barbed wire factory in 1990, opened its bar and patio to the public Friday night.
The building is nestled along the Kansas River at 8 E. Eighth, between city hall and Lawrence Riverfront Plaza. It's open until 1:30 a.m. Friday and Saturdays; until 5 p.m. Sundays; and until midnight Mondays through Thursdays.
"It's kind of nice to actually be in business," Elwell said Friday evening.
Elwell leases the 26,000-square-foot building from the city, and has conducted charitable events and wedding receptions in the building for several months. The city Friday morning gave him permission to open to the public.
In the coming weeks, he plans to open his gallery spaces, candy store and soda fountain. A grill will follow.
"It's better to do one thing at a time," Elwell said.
Leadership
Hewlett-Packard CEO named chairman
Carly Fiorina, president and chief executive of Hewlett-Packard Co., has been named to the additional post as chairman, becoming the first woman to hold all three top posts at a major computer company.
Fiorina's new post, announced Friday, marks a nod of approval for the work she's done since July 1999 when she took the helm of the Palo Alto, Calif.-based company, the world's third-largest computer maker.
At 46, Fiorina is one of fewer than a handful of woman leading a Fortune 500 company.
Copyright 2018 The Lawrence Journal-World. All rights reserved. This material may not be published, broadcast, rewritten or redistributed. We strive to uphold our values for every story published.