Bark mysteriously disappearing from trees. Bugs invading houses. Homeowners watering their house foundations.
Weeks of record heat and bone-dry weather causes humans, animals and insects to do strange things.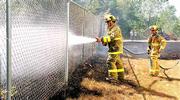 "I've had reports of some bark disappearing from trees and the only thing we can seem to attribute it to is animals chewing it off trying to find moisture," said Bruce Chladny, horticulture specialist for the K-State Research and Extension office in Douglas County.
Lack of moisture also may be behind reports of ants or other insects moving indoors, seeking out water in sinks or other areas of a home, Chladny said.
"We have things like that happen during each of the seasons," Chladny said. "Last year at this time, there was a problem with centipedes and millipedes. The house is a good place for us, and it's also a good place for insects."
Watering the foundation of a house may keep it from cracking during extremely dry weather, according to Chladny.
"It's good idea," he said. "When the soil becomes dry it can crack and pull away from a foundation and then later swell back up against it and apply enormous pressure."
Even if the soil has already started to pull away, it can't hurt to water the foundation area, Chladny said.
Lawrence already has experienced a cool-down in its weather in recent days. Although a return to temperatures in the 80s is forecast today, the mercury will drop to highs in the 50s and 60s this weekend, according to the National Weather Service in Topeka.
Today marks the first day of fall, and with the change in seasons comes a change in the outlook for precipitation.
"Our chances for rain will improve over the next two or three days," Phil Bills, an NWS forecaster, said. "Saturday and Sunday will be cool with occasional light rain."
The only significant rain in the Lawrence-Topeka area so far in September occurred Wednesday, records show.
In Lawrence .14 of an inch fell, and .15 in Topeka. Normal rainfall for the month is 2.6 inches.
The NWS had no Lawrence rainfall statistics, but in Topeka rainfall is nearly 9 inches behind the normal annual 27.6 inches.
Copyright 2018 The Lawrence Journal-World. All rights reserved. This material may not be published, broadcast, rewritten or redistributed. We strive to uphold our values for every story published.