Nearly 200 people enjoyed popcorn and balloon animals Sunday afternoon while examining the Delaware Street property that will become a new kind of community in East Lawrence.
The Lawrence Cohousing Group had an open house to show off the 3.25 acres it has contracted to buy for its planned development, Delaware Street Commons. Margie Wholey said the land was selected in late July.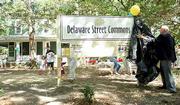 "We negotiated for three weeks and signed a contract Aug. 1," she said. "The closing will not be until July 1."
Wholey is one of eight members of Lawrence Cohousing Group, which plans to create a community based on clustered homes and a common house to foster a closer bond between neighbors.
The historic McMillan house, 1208 Del., which was built in 1870, will probably serve as the common area for cohousing families to share meals and social activities, Steve Polson said.
"It's really a landmark and will remain a touchstone of the project," he said. "It's a half-mile from the courthouse and one-third mile from South Park. We can remain a part of walking Lawrence."
The property, which extends from 12th Street to 13th Street, also includes the homes at 1224 Del. and 818 E. 13th St. The building at 1224 Del. currently houses apartments. Polson said the group may decide to turn it into flats.
The Lawrence Cohousing Group began about a year ago with the intention of creating a community of 22 to 30 units within an established neighborhood. Each member of the group participates in all of the decision-making and shares ownership of the common areas, similar to a condominium association.
"Cohousing makes such a good neighbor for single family residences and we cluster our homes around a pedestrian walkway," Polson said.
Mayor Jim Henry unveiled the sign for the Delaware Street Commons project at the open house.
"I like the concept. We think about neighborhoods we grew up in as children. We think about the family involvement in neighborhoods," Henry said. "It's refreshing to see an initiative such as this."
Four Douglas County Commission candidates also were on hand to praise the cohousing planners and expound on their thoughts for the county's growth.
"As someone who has been involved in smart growth for six years, I see it as a symptom of something that has gone wrong in our community," 3rd District Democratic candidate Larry Kipp said. "We've lost that sense of neighborhood. It's a response to human needs, and it meets a lot of the smart growth tenets."
Kipp's opponent, Jere McElhaney was there, as were 2nd district candidates Dan Gregg and Bob Johnson.
Polson said the group's next big step is to decide on a site design for the layout of the property. Cohousing expert Katie McCamant will be in Lawrence from Oct. 6 through Oct. 9 to help the group create the design.
The cohousing group meets at 10 a.m. every Saturday at 1208 Del.
Copyright 2018 The Lawrence Journal-World. All rights reserved. This material may not be published, broadcast, rewritten or redistributed. We strive to uphold our values for every story published.