Fall is traditionally the ideal time to over-seed and re-plant cool-season lawns with fescue, bluegrass and ryegrass. The mild night temperatures, the timely rains and ideal growing conditions help seeds germinate and establish root systems quickly. So, if your lawn needs major attention, or there are just a few bare spots to fill, consider using a turf-type tall fescue to get the job done.
The selection of a good cool-season lawn in Lawrence boils down to turf-type tall fescue. It is the best-adapted cool-season grass for a year-round lawn. Although K-31 has been planted for many years, the newer turf-type cultivars far surpass it in quality and desirability. Turf-type tall fescues are more dense, finer-textured, darker green and not as prone to "clumping" as is the K-31.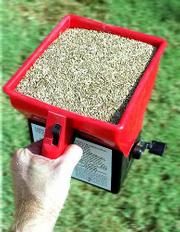 Choosing seed can be confusing and sometimes frustrating. Keep in mind though, that a small investment in time and money up front will pay big dividends in the quality of the turfgrass to come. The current K-State Research and Extension variety recommendations are taken from the most recent tall fescue trial conducted in the fall of 1996. This trial included the newest cultivars, some holdovers from the 1992 trial and some old standards such as K-31 for comparative purposes. Based on performance at 13 test sites, the top cultivars are Rembrandt, Plantation, Shenandoah, Shenandoah II, Millennium, Masterpiece, Jaguar 3, Rebel Sentry, Olympic Gold, Scorpion, Southern Choice, Renegade, Genesis, Crossfire II, Pixie E+, Arid 3 and Mustang II.
Regardless of the specific variety you choose, it is better to purchase or create a blend of multiple varieties to minimize your risk of failure and increase the health of the turf. Blending three or four varieties together is OK because growth differences among the turf-type cultivars are often subtle. However, their disease and insect resistances vary greatly.
Likewise, there is a tremendous difference between the turf-types and K- 31. While K-31 seed is popular for its price and availability, seedlots have been historically contaminated with the perennial weed orchardgrass, that cannot be selectively removed from tall fescue. Additionally, K-31 seed production has been impaired by drought this year so selection of a turf-type tall fescue is highly recommended.
Fall seeding greatly increases you chances of success when establishing a cool season turf. Likewise, purchasing high-quality seed at a premium price will reward you with a healthy, weed-free lawn. Keep in mind, though, proper seed bed preparation, seeding rate, and keeping the seeds moist as they germinate are also important these first few weeks.
So, if you are like me and are having to re-plant your lawn, good luck and let's all hope for rain!
---
Bruce Chladny, horticulture agent at K-State Research and Extension-Douglas County. For more gardening information call the Master Gardener Hotline, 843-7058, between 9 a.m. to noon and 1 p.m. to 4 p.m. Monday, Wednesday, or Friday.
Copyright 2018 The Lawrence Journal-World. All rights reserved. This material may not be published, broadcast, rewritten or redistributed. We strive to uphold our values for every story published.