The write stuff
MORE: www.avoncrusade.com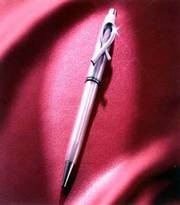 The Avon Breast Cancer Crusade will debut a new pen design in October to support National Breast Cancer Awareness Month. The new pen features a wider barrel in a sparkling pearlized pink finish with matte-silver accents, and symbolic pink ribbon clip. It costs $3. The Crusade Pen is the latest addition to the Crusade pink ribbon fund-raising product collection available from Avon.
Net proceeds from the pen sales and other products in the Crusade line fund a range of breast cancer programs and services nationwide. Avon sales representatives nearly 500,000 forego commission on Avon Crusade products so the maximum amount of funds can be returned to breast cancer programs across the country.
The Avon Breast Cancer Crusade Pen and other Avon Crusade "pink ribbon" products come in a gift box and come with a brochure about breast cancer and the Avon Crusade. The products may be purchased through independent Avon sales representatives, by calling (800) FOR-AVON, or on the Web at www.avoncrusade.com.
Come, let's stroll
Sudden Infant Death Syndrome is the leading cause of death in infants between 1 month and 1 year of age. Every two-and-a-half hours, another baby dies of SIDS.
People who want to change those statistics for the better might want to put on their walking shoes.
The fourth annual SIDS Stroll to benefit SIDS Resources Inc., Prairie Village, will be from 10 a.m. to 1 p.m. Sept. 23, at Mill Creek Park near the Country Club Plaza, 47th Street and J.C. Nichols Parkway, Kansas City, Mo. The stroll is a 1/2-mile walk around the park featuring a wide variety of attractions and activities for children and adults. Admission is free for ages 3 and under, $5 for ages 4 through 11 and $15 for ages 12 and older. For information, call SIDS Resources at (913) 649-6996.
A benefit reception for the SIDS Stroll, hosted by Wild Oats Community Market, will be from 6:30 p.m. to 8:30 p.m. Friday at Wild Oats, 6621 W. 119th, Leawood. Admission is $30 per person. Proceeds will benefit the programs of SIDS Resources that provide support for families and education for professionals and the community.
Brochure pinpoints diabetes risk for Hispanics
MORE: www.natrataste.com
Diabetes is a killer, and roughly 1.2 million Hispanic Americans, most of them women, suffer from it. This debilitating disease can lead to severe eye, circulatory and kidney problems, even death.
But diabetes doesn't have to be a death sentence. The maker of NatraTaste, a nonsugar sweetener, has produced "Taking Charge: Diabetes and Hispanic Americans," a brochure written by a registered dietitian in both English and Spanish. The publication provides information about risk, prevention, diabetes management and diet.
For a free copy of "Taking Charge: Diabetes and Hispanic Americans," send a self-addressed, stamped business-size envelope with 77 cents postage to: Taking Charge: Brooklyn Premium Corp., 60 Flushing Ave., Brooklyn, N.Y., 11205. Please allow four weeks for processing.
Copyright 2018 The Lawrence Journal-World. All rights reserved. This material may not be published, broadcast, rewritten or redistributed. We strive to uphold our values for every story published.