Sydney, Australia — Australia turned to a symbol of its native aboriginal people Friday, world-champion sprinter Cathy Freeman, to light the Olympic torch and conclude a joyful ceremony that brought old enemies together under the banner of competition.
Athletes from the two Koreas, North and South, marched into Sydney Games behind a blue-and-white unification flag in a moment of kinship the kind the games are meant to inspire.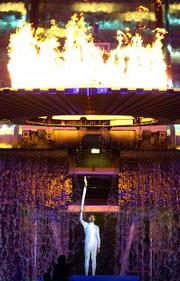 Walking together for the first time since the peninsula was divided in 1945, the Koreans clasped hands and raised them above their heads as the 110,000 people jammed into Olympic Stadium stood and cheered.
Freeman is favored to win the 400 meters and could become the first Aborigine to win an Olympic gold medal. Her selection was a gesture of reconciliation toward her people, who make up the poorest section of Australian society.
Freeman climbed a set of steps and lighted the flame while standing in a pool of water. The cauldron was then lifted to the top of one end of the stadium as fireworks cascaded overhead.
The crowd already had been treated to a boggling display of color, music and dance by the time Freeman ignited the torch.
The spectacle, featuring more than 12,500 performers, turned the stadium floor from a primordial sea, to a desert occupied by the Aborigines, to a British penal colony. It then evolved into a vigorous, young nation of Crocodile Dundee types, ending in a suburbanized land inhabited by men joyfully pushing lawn movers across their yards.
If nothing else, the opening act of these games seemed certain, at least temporarily, to push aside some of the Olympics' lingering problems athlete drug use, transportation problems and aboriginal protests even as there were developments on all those fronts.
The British science journal Nature predicted some Olympians still will get away with using human growth hormone, and Princess Anne, president of the British Olympic Association, said athlete drug use will never be stamped out.
The drug issue even found its way into the opening ceremony, if only in the form of a condemnation of cheating. Australian field hockey player Rechelle Hawkes took the athletes' oath on behalf of all the competitors and, in an Olympic first, pledged to perform without doping and drugs.
Games organizers said they planned ease persistent transport tangles by adding 100 bus drivers to the crew of 4,500 already working.
And about 800 Aborigines made good on their threat to protest in Sydney to bring attention to their plight, marching downtown Friday.
The opening ceremony, however, was just the way organizers wanted it focusing the world's attention on the start of the Sydney Games and not the distractions dancing around them.
---
TRACK:
The man who won nine Olympic gold medals in track and field thinks everybody including her coaches should ease up on Marion Jones.
Carl Lewis said expectations are too high for Jones, who is trying to win an unprecedented five golds in Sydney.
"It's unfair that her camp or her people put her in that situation to have to run two relays," Lewis said Friday.
Jones has entered the 100 and 200 meters, 400 and 1,600-meter relays and the long jump. Both relays will be contested on the same day.
Lewis won four gold medals in Los Angeles in 1984. He wouldn't say whether he thinks Jones can win five events.
"I don't want to put any pressure on her," he said.
---
WEIGHTLIFTING:
The tiny country of Qatar has found a way to recruit Olympic athletes. It buys them.
The oil-rich Persian Gulf nation has paid $1 million to the Bulgarian weightlifting federation for eight weightlifters, including some medal hopefuls.
The ex-Bulgarians have been given passports from Qatar and new Arabic names. If they bring home the gold, they'll bring it to their adopted country.
---
MEDALS:
The first medals at the Sydney Games will be awarded in a new sport the triathlon.
The women's triathlon Saturday (Friday night EDT) includes a dip in Sydney Harbor watch out for the sharks followed by a bike ride and run through the city's picturesque downtown.
Athletes will also compete for medals in 12 other events Saturday.
Australian hero Ian Thorpe goes for his first gold in the 400-meter freestyle, while Jenny Thompson tries to become the first American woman to win six gold medals in the 400-meter freestyle relay.
Copyright 2018 The Associated Press. All rights reserved. This material may not be published, broadcast, rewritten or redistributed. We strive to uphold our values for every story published.