American Indian leaders at a conference today at Kansas University will be greeted by protesters.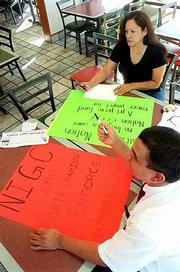 Leaders of the protest, members of the Kansas Kickapoo Tribe, want to bring attention to their allegations of improprieties within the tribe and its gaming operations at the Golden Eagle Casino near Horton.
"We feel like if there is going to be a conference, our tribe should be the focal point," said James Cisneros of Holton, who served on the Kansas Kickapoo Tribal Gaming Commission and the Kickapoo Tribal Council before being forced out.
The conference, which runs through Saturday, is billed as "American Indian Leaders: Red Power and Tribal Politics."
It is being conducted through the KU Continuing Education Program in conjunction with Haskell Indian Nations University. Indian gaming is among the topics to be discussed.
Cisneros and two other protest organizers, Steve Cadue of Lawrence, former chairman of the tribal council, and Thelma Simon of Horton, have lawsuits against the tribal council. They claim they were illegally removed from the council about a year ago by the other four members.
The lawsuits are pending in Kickapoo Tribal District Court.
Cisneros has a second lawsuit alleging the tribal council illegally removed him from the gaming commission. No hearings have been conducted since the case was filed more than a year ago, he said.
Cisneros claims the state of Kansas is not enforcing the gaming compact it has with the Kickapoos.
But Tracy Diel, director of the Kansas Gaming Commission, said he has not received any requests for an investigation nor has anyone presented evidence of any wrongdoing on the part of the Kickapoos.
Members of the Kickapoo Tribal Council could not be reached for comment Thursday.
Copyright 2018 The Lawrence Journal-World. All rights reserved. This material may not be published, broadcast, rewritten or redistributed. We strive to uphold our values for every story published.