Quincea.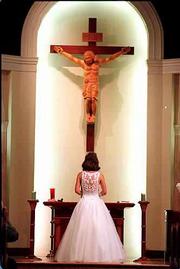 You might never have heard the word before.
But rest assured, your Hispanic friends and neighbors in Lawrence probably have.
Quincea pronounced "KEEN-say-ahn-yair-uh" and similar to quince ain Spanish, or "15 years" is a coming-of-age ceremony for 15-year-old girls that has its roots in Mexico.
The event, long celebrated for girls in that country, has become increasingly popular among Americans of Hispanic heritage.
Just check the Web. Type "quincea" into the search engine Google, and you'll get about 1,960 matches in response to your request.
In a quincea, a girl renews her baptismal promises and recommits herself to leading a Christian life.
The ceremony, which takes place during a special Mass and includes a girl's parents and godparents, marks her transition from childhood into adulthood.
The event usually closely coincides with a girl's 15th birthday.
A girl who has a quincea is being presented to society and welcomed by friends, family and her congregation both as a young woman and an adult member of the community.
If it sounds somber, it's anything but.
Because as meaningful as a quincea is it's also about having a great time.
Right after the ceremony, it's traditional to have a big reception and a dance for the quincea girl, her friends and relatives.
Girls get to plan the event months in advance, arranging the invitations, flowers, food, music and picking out special dresses to wear.
For the girl celebrating a quincea, it's a bit like going to the prom, getting married and being a debutante all at once.
Lawrence connection
There are a few quin-ceas held each year at St. John the Evangelist Catholic Church, 1234 Ky., said the Rev. Charles Polifka, pastor.
The multi-ethnic congregation has many members who are of Mexican heritage, and the church plays a central role in Lawrence's Hispanic community.
Katie Self her full name is Kathryn Olivia Saenz Self celebrated her quincea on Aug. 19 at St. John. Her 15th birthday was Aug. 31.
Katie attended St. John School through the sixth grade. She is a sophomore at Free State High School.
Her parents are Julia Saenz, office manager for Lawrence Catholic School St. John Campus, 1208 Ky.; and Jim Self, who works as an automotive technician at a repair shop in Kansas City, Mo.
"I'd seen a couple of quinceas, and I've been invited to a few. It looked like something I wanted to be a part of," Katie said.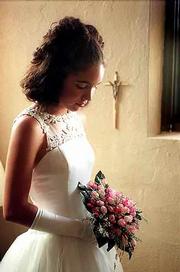 "My best friend, Claudia Lozano, had hers last year, and I helped her plan it out. That made me really want to have one."
Katie's maternal grandparents immigrated to the United States from Mexico, and Hispanic culture has been important to both her and her mother.
Katie's parents have tried to bring up their children they also have a son, Michael, 18 with an appreciation of their family's background.
Katie took most of the planning for her quincea into her own hands.
"She organized the whole thing," Saenz said.
"Katie really researched this. She even got on the Internet and talked to other girls to see what they did for their special day."
The mother and daughter also attended a March 4 workshop at the Archdiocese of Kansas City that examined the religious meaning of the quincea ceremony.
Planning for the event itself was elaborate.
Katie sent out invitations to 150 people to attend the quinera and the gathering afterward.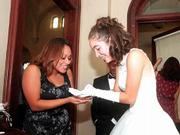 A catered dinner and dance for Katie were held at The Pool Room, 925 Iowa. A disc jockey played Mexican music and rock songs for the young guests.
"It ended up like a whole wedding. She had a dinner and a dance. And of course you need to have table decorations and invitations and flowers and a dress," her mother said.
A quincea can be as simple or fancy as a girl and her family wish.
"It can cost thousands; it depends on how much you want to spend. It's just basically like a wedding. There's a cake, too," Saenz said.
Prayer of promise
During a quincea, it's traditional to present the girl with several symbolic gifts.
Katie received a rosary; a cross; a medal with the image of Our Lady of Guadelupe, the Patroness of Mexico; a ring; and a crown.
She also had to say a prayer of dedication, recommitting herself to her baptismal promises and a Christian life.
"I thought it was a beautiful ceremony," Katie's dad said.
"She was really nervous beforehand, but after a bit she started to relax, because we were right there with her. She had to read a prayer in front of everybody, but she did a good job of it."
Katie appreciated the significance of the ceremony. But for her, the dance and party were the best part of the day.
After all, she is 15.
"It went by really quickly. And after the Mass that was really fun," she said.
Copyright 2018 The Lawrence Journal-World. All rights reserved. This material may not be published, broadcast, rewritten or redistributed. We strive to uphold our values for every story published.