The Lawrence Public Library plans to expand its services, both physically and in cyberspace.
Next month, Library Director Bruce Flanders will present the library's preliminary future plans, which include one or two branch libraries and expanded Internet services, to the Lawrence City Commission. The city provides about 75 percent of the library's funding about $1.6 million next year.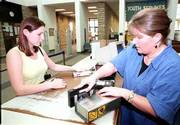 The plans, endorsed by the library's board of trustees, will help the library serve the community better, Flanders said.
"If you look at a map, the library is located in the northeast part of the city," he said. "We're not centrally located anymore."
Flanders said he thought more people would use the library if there were additional locations in the city. The plan includes creating one or two branch libraries, possibly in the south and west parts of the city, in leased storefronts, he said.
"We don't have any specific locations in mind," he said. "Just looking at a map, we're trying to determine where the population is going."
The branches would carry books for all ages and have a small collection of high-interest materials. The branches also would provide Internet access to the public.
Flanders said that because the expansion is so early in the development stages, he did not have a cost estimate.
In addition, Flanders said he would like to locate throughout the community several kiosks that would provide Internet access to the main library. From the library's Web site, he said, people could peruse the library's catalog, reserve or renew books and access some periodical articles.
The Web site currently provides basic information about the library and its programs.
"It's not very interactive at this point, but within the next several months we're going to have a fresh new look," he said.
Plans also include developing an e-mail notification service to let interested people know about the library's new materials, Flanders said.
Technology will play an important role in the library's future, he said.
"We are very interested in the kinds of things we can do on the Internet," he said.
Despite all the plans, Flanders said the library board is still committed to its downtown location.
"We need to move forward, but we will maintain the library that we're in now and not lose sight of what we have here," he said.
The plans will be presented at a city commission study session, requested by Flanders, at 9 a.m. Oct. 3 at the library.
Flanders said he is open to community input about the plans.
---
MORE: www.lawrence.lib.ks.us
Copyright 2018 The Lawrence Journal-World. All rights reserved. This material may not be published, broadcast, rewritten or redistributed. We strive to uphold our values for every story published.