Baldwin — Arun Gandhi, grandson of spiritual leader Mohandas K. "Mahatma" Gandhi, will speak at 7:30 p.m. Tuesday in Rice Auditorium at Baker University.
Arun Gandhi was born in 1934 in Durban, South Africa, and was the target of bigoted attacks by both white and black South Africans. He became an angry young man so his parents sent him to live with his grandfather for 18 months, hoping he would learn to control his rage and prejudice through nonviolent means.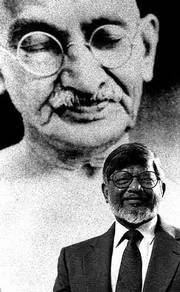 Arun's parents worked to end apartheid in South Africa. As a result, his father spent 16 years in prison. His mother spent 54 years at his grandfather's ashram outside of Durban.
At age 23, Arun returned to India and worked as a reporter for the Times of India. He later started the Center for Social Unity, which strived to alleviate poverty and caste discrimination by providing members of the "untouchable" class with self-help models of commerce. The project eventually led to the creation of Co-operative Bank and the branching out into more than 300 villages.
In October 1991, Arun and his wife, Sunanda, founded the M.K. Gandhi Institute for Nonviolence at Christian Brothers University in Memphis, where he is a scholar-in-residence.
Arun has written several books, including "A Patch of White," "Morarji Papers," "Testament to Truth" and "The Forgotten Woman: the Untold Story of Kasturba, Wife of Mahatma Gandhi."
Copyright 2017 The Lawrence Journal-World. All rights reserved. This material may not be published, broadcast, rewritten or redistributed. We strive to uphold our values for every story published.