A Lawrence-based company is cleaning up with a new contract for Boeing Co.
Pur-O-Zone, 345 N. Iowa Street, recently landed a three-year deal to provide janitorial supplies for Boeing's sprawling complex in Wichita.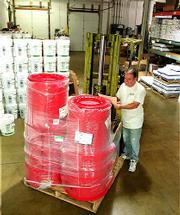 The deal is expected to be worth nearly $1 million a year.
"It's an amazing coup for us," said Mark Elzea, Pur-O-Zone controller. "We sell all over the state as well as into Colorado, and a little bit into Nebraska and Oklahoma and Missouri but Wichita itself was never somewhere we'd been.
"Now, all of a sudden, we're in their biggest employer by far. This puts us in a good position."
Pur-O-Zone is part of a four-company consortium that will supply Boeing centers in Seattle, St. Louis, Wichita and California. Coastwide Laboratories, Portland, Ore., is leading the group, which includes Waxie Sanitary Supply of San Diego, and OK Vacuum of St. Louis.
Pur-O-Zone, which makes and distributes cleaning chemicals and supplies, will handle Boeing's Wichita complex beginning Oct. 1. The place covers 14.3 million square feet, or enough for two square miles under roof.
Boeing has about 16,300 employees in Wichita, and they all need soap, hand towels and toilet paper.
"It's like Allen Fieldhouse," Elzea said. "It's just a massive amount of people."
Among the supplies to be shipped from Pur-O-Zone, of Lawrence, to Boeing Co. in Wichita during the next 12 months:Toilet paper: 36,000 rolls, each 2,000 feet long.Hand towels: 56,400 rolls, each 500 feet long.Liquid soap: 5,000 gallons.Toilet seat covers: 4.56 million.Trash can liners: 1.08 million.
Such demand also means more work for Pur-O-Zone's 33 employees in Lawrence, who will load supplies into two tractor trailers each week for shipment to Boeing's 33 drop-off sites.
Each week, Boeing's Wichita complex will get nearly 700 rolls of toilet paper enough two-ply tissue to roll for 262 miles, or from Elzea's office to the Boeing plant and halfway back.
"It's our biggest contract, by far," Elzea said.
Pur-O-Zone has been in Lawrence since 1944, when Jack Vincent opened the place in the basement of his Massachusetts Street hardware shop. The company had $6.5 million in sales last year, and expects $7 million this year.
Since 1996, when it moved from 708 Conn. to a 21,000-square-foot office and warehouse center near the Kansas Turnpike, Pur-O-Zone has added 13 employees and boosted sales by 50 percent.
Copyright 2018 The Lawrence Journal-World. All rights reserved. This material may not be published, broadcast, rewritten or redistributed. We strive to uphold our values for every story published.