Bloomington, Ind. — The General's iron hand is still on the Indiana basketball team.
At the urging of Bob Knight, junior guard Dane Fife decided Monday to leave the Hoosiers. He said he does not think there is any reason to stay, now that his coach has been fired.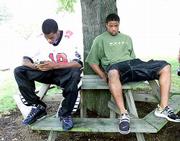 Assistant coach Mike Davis, Knight's top recruiter the past two seasons and the key link to the team for many players, also said his future in Bloomington rests with Knight.
"Whatever coach tells me to do, whatever the players say, I'm going to do," Davis said Monday, walking out of Assembly Hall.
Other players many came to Indiana solely because of Knight were also turning to their former coach for guidance. Junior forward Jarrad Odle said Knight made it clear to the team he's available anytime they want to talk.
"He's going to be a friend to us now instead of a coach," Odle said, standing outside the building where banners mark Knight's three national championships. "He's being a friend to us and trying to get us to the best place we can be."
What remains to be seen is whether the best place will be IU.
"They've just got to simmer down and see what happens," Davis said of the players. "It all depends on what coach says."
Knight, an old-school disciplinarian known as The General, was fired Sunday for a "pattern of unacceptable behavior." The university now faces the task of replacing one of college basketball's great coaches while keeping together a team many considered the most talented Hoosiers squad in years.
That squad gave IU athletic director Clarence Doninger an ultimatum Monday afternoon, saying that if he doesn't elevate Davis or assistant coach John Treloar to interim head coach, the entire team will quit.
"You've got some quality people and they are stunned by all of this," Doninger said earlier in the day. "They are hurt by all of this. There's no question they came to Indiana University to play for coach Bob Knight."
Doninger made it clear that he wants Davis and Treloar to stay. When it comes to appointing an interim head coach, Doninger said the university was examining its options.
As for Knight, Davis and Odle said they're sure the coach won't have trouble finding work.
"He told us he's going to coach again," Odle said. "There's no doubt in my mind, he's one of the best coaches in the nation and for him to not move on to another school would be a shame."
Knight's son, assistant coach Pat Knight, said Monday the experience has ruined Indiana University for him.
"The university handled this poorly," he said. "I'm ashamed to say I went here. I'll never do anything again for this university."
Would he stay on as an assistant?
"No," Knight said. "I'm going with my Dad. I stand by him."
As does a large portion of the student body. Across the campus Monday were remnants of the previous night's rallying, where thousands of students displayed pro-Knight banners and burned university president Myles Brand in effigy. Hanging by a rope outside one off-campus house was a stuffed human figure with the name Kent Harvey written on its shirt.
Harvey is the 19-year-old freshman who had a run-in with Knight that sparked the events leading to the coach's dismissal. A sign by the hanging figure said, "This is what we do to traitors."
Harvey said Knight grabbed him by the arm and cursed at him after the freshman greeted the coach at Assembly Hall by saying, "Hey, what's up, Knight?" Knight said he had simply held the student's arm and lectured him about manners.
Regardless, Brand and other university officials saw the confrontation and other misconduct that had not been publicized as the final blow. After reprimanding Knight in May and putting him under a zero-tolerance policy, the university acted quickly, unwilling to let this latest episode linger.
But Knight's spirit will surely stick around. Once a new coach is hired and the team moves forward, Odle said he believes his old, red-sweatered coach will continue having an impact.
"If he's at home and he watches us on TV and doesn't like the way we play," Odle said, smiling for the first time, "I'm sure we'll hear about it."
Copyright 2018 The Associated Press. All rights reserved. This material may not be published, broadcast, rewritten or redistributed. We strive to uphold our values for every story published.