There is no dot race at Kansas University home football games.
The speakers don't bombard you with quacking ducks, sirens or other funny noises.
The latest rap lick won't drown out the KU Marching Band.
"People don't come to the football game to watch the video board," said Mike Lickert, video production coordinator with Rock Chalk Video Productions, an arm of the KU athletic department.
Lickert knows he walks a fine line in producing the home football games.
He has at his disposal a $1 million MegaVision video screen that is 24-feet by 32-feet, four cameras spread around the stadium, 28 speakers and a control room packed with computers and assistants.
But too much light and noise and the game begins to resemble a rock concert.
"There are just so many different philosophies of what to do with your big screen," said Lickert, who has seen the extremes at stadiums across the country. "Our focus is to complement the game add to the atmosphere."
Lickert arrived at KU last year from the University of Nebraska, where he studied journalism and mass communications and worked during college, and for two years after, with HuskerVision.
When he's not producing KU games, Lickert helps compile highlight reels for the university's other sports, does promotion commercials for the athletic department and has a role in producing the coach's shows.
During football games Lickert calls the shots on the MegaVision, which draws its picture from 995,328 tiny light-emitting diodes of red, blue and green.
It is paired with about $500,000 in computers and other equipment.
"I think it adds to the game to be able to see the replays. Overall, it just kind of adds to the experience."
Tom Fowler, KU student
Four cameras feed the control room with video images of the game.
Three computers are used to digitally record each play and then are used for the replays at most any speed.
Another computer can store and play up to 1,000 different songs and sound bites.
Statistics and photos, like player head shots, to be posted on the MegaVision board are stored on yet another computer.
Thankfully, Lickert has help: 10 people in the control room on game day and about as many around the stadium. The staff is a mix of freelance professionals and students.
One man spends each game adjusting the brightness and color on the cameras. Seven students, mostly broadcast or film majors, are hired for tasks ranging from running the replay machines to organizing camera cords.
The efforts of Lickert and his assistants get mixed reviews.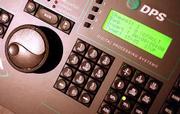 "I think it adds to the game to be able to see the replays." said Tom Fowler, a 21-year-old KU student. "Overall, it just kind of adds to the experience."
Teresa Fowler of Lawrence took her 7-year-old son to a game last year and both enjoyed the video board, which helped in following the action when the team was at the other end of the field.
It didn't mean sacrificing the ambiance of amateur sports, she said.
"I think it still felt like college football," she said.
Not everyone is pleased by the infusion of technology into the tradition.
"I'm a purist," said Gary Jennings of Lawrence. "I think they are a distraction. It's become more of an entertainment event than a sporting event."
Lickert said he knows he won't please everyone.
"The older generation thinks we play everything too loud," he said. "The students think we need to play twice as loud."
Lickert tries to aim for a balance.
He orchestrates breaks in the action with the KU Marching Band.
Sometimes he will rerun a stellar play.
Other times, the band lets fly with "I'm a Jayhawk."
"We try to keep everything flowing and keep it a nice straight show," Lickert said.
Other than a public service announcement or two, Kansas home games don't include commercials.
"That's something we've really, really tried to stay away from," Lickert said. "They've done it at Texas, and fans literally have booed the screen."
And they don't include the obligatory "dot race," in which animated dots or ponies or stingrays or baseballs race around a digital track to the cheering crowd.
"I don't think it adds a great amount of value," Lickert said.
During the game, Lickert will run the plays live as they happen and then run at least one replay, something even Jennings admits to watching.
Amazing plays by the home team likely will earn the posting of the player's picture and additional replays in slow motion.
But visitors can watch their triumphs in replay as well.
"Some schools will not show an opposing team's good plays," Lickert said. "We will show everything at least once."
Lickert said little has changed from last year's debut of MegaVision.
Some of the equipment has been updated. There are new short animated features to signal a touchdown.
"The head shots are neater than last year," Lickert said.
But with a year under their belts, the production should have improved, Lickert said.
"Each year we hope to get a little better and better," he said.
Copyright 2018 The Lawrence Journal-World. All rights reserved. This material may not be published, broadcast, rewritten or redistributed. We strive to uphold our values for every story published.