Soaring afternoon temperatures didn't deter too many people from attending Lawrence's 21st annual Arts and Crafts Festival Sunday in South Park.
Lawrence Parks and Recreation special events supervisor Duane Peterson said 105 vendors were able to set up and present their wares for nearly 5,000 people.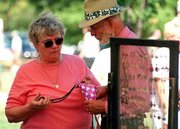 "It went real well. Towards the latter part of the afternoon, people started to leave, but with the heat and all that was pretty good," he said.
A high temperature of 101 degrees tested the patience of some, but vendor Mary Ann Puckett said she was still pleased with the sales of her doll clothing.
"It was hot this afternoon, I didn't think I was going to make it but there was people out even then," Puckett said.
"This was my first year and I had never sold my doll clothes before. We've decided we'll do it again."
Copyright 2018 The Lawrence Journal-World. All rights reserved. This material may not be published, broadcast, rewritten or redistributed. We strive to uphold our values for every story published.