More than 50 years ago, when blacks couldn't sit with whites in most public places and before Rosa Parks refused to go to the back of the bus, Mary and Jack Davidson of Lawrence were among the many young whites joining blacks on the front lines of the civil rights movement.
Today, the Lawrence couple remain active in politics and the quest for equality.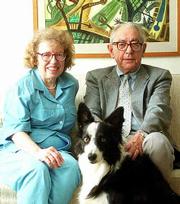 Jack is a member of the Lawrence school board and a retired Kansas University professor. Mary is a Democratic activist who recently attended the party's national convention.
"Jack and I both worked for civil rights as early as 1949 at (St. Louis') Washington University," Mary said. "We organized the Student Committee for Admission of Negroes. It was working in that group that led us to get married."
The Davidsons met at a YMCA organized speech by the Rev. Mordecai Johnson that the campus. Soon after, they both became heavily involved in the effort to desegregate St. Louis.
"I was a student at Berkeley after the war. If students weren't being treated right, we would set up a picket line and close it down until (businesses) changed their ways," Jack recalled. "When I moved to St. Louis, it was quite clear that movie houses were segregated. I worked with CORE and the NAACP. I just felt these things of segregation were essentially unfair. Growing up in Southern California, I learned not to like it."
'Just ignored us'
As graduate students at the prestigious school, the young Davidsons belonged to the Congress of Racial Equality (CORE), long before the group became an all-black organization in the 1960s. CORE was founded in the early 1940s in Chicago, growing out of the earlier peace group Fellowship of Reconciliation.
"We'd go down and sit at Walgreen's lunch counter and sit (black-white) every other one. They couldn't make us leave; sometimes we would close down the whole lunch counter," Mary said. "Some of the department stores did decide black people could sit down and order a sandwich and the world wouldn't come to an end."
The CORE protesters were trained to act nonviolently, and in St. Louis they encountered little overt hostility from other lunch counter patrons or managers. Mary said she believed they were thought of more as nuisance than threat.
"Most people just ignored us. People had basically decent manners even if they were prejudiced," she said. "Sometimes the managers would call the police, and sometimes the police would ask us to leave. If we were asked by the police to leave, we would, because CORE was not anxious to cause any trouble."
Ending segregation in the city's public pools proved difficult.
"St. Louis had two public swimming pools, and they were all only for white people," she said. "The NAACP sued, and after that the city decided they would open the pools."
The pool on the north side would be for women three days a week, and the south side pool would open for men. That arrangement was still not acceptable to Mary and her friends.
"The first day they were opened, two young people from CORE, one was me and another black woman, we went into the swimming pool (together)," she said. "The lifeguards moved as far as they could, singing 'Old Black Joe' and 'Dixie.' There was no trouble, but I don't know if they'd have let us drown or not."
Lawrence in the 1960s
The Davidsons left St. Louis shortly thereafter, moving to New York, South America and Europe before settling in Lawrence in 1966.
"New York doesn't have the same kind of problems. It had the kind of laws California had. There was still discrimination, but there were no laws that favored it," Mary said. "It was legal in St. Louis to discriminate in the late '40s and early '50s."
The movie theaters in town were still segregated when the Davidson family moved to Lawrence, and the Davidsons did what they could to help break down the racial barriers of the time. The couple have four sons who attended Lawrence schools.
"We took our children to swimming lessons at Holiday Park, and it was still not opened to black people," Mary said. "I did take a little black girl to sign her up for swimming lessons with my own children, and they let us do it."
"I was quite surprised that Kansas was as segregated as it was," Jack said. "The movie houses were segregated. Just before we came, (Chancellor Franklin) Murphy made it clear that he wanted any student to sit anywhere he wanted to, or he would show first-run films up in the union. That did that. Slowly, these things have changed."
The present
After years of crusading and being involved in Democratic politics, the couple believes there is still more that needs to be done before all people, students especially, have the same opportunities and rights.
"I think the main thing that really changed, is there are no laws saying it's all right to discriminate," Mary said. "I think what needs to be changed is ... we can have a lot more black teachers in the public schools ... but the university does seem to be trying to hire more minorities of all kinds."
Jack said he has been discouraged in the past by the uphill struggle for equality, but the changes that have been made that encourage him.
"Of course, Lawrence is a very different place because of the universities here. A lot more change is needed," he said. "We have a few African-American teachers and a couple of principals, but the minorities populations in Lawrence are bigger than many other parts of Kansas.
"A lot of other things have changed. The question of what percentage of population of universities are women. When I came here girls could play in the marching band at Lawrence High, but they couldn't play at KU. There was no girls' swim team. Now young women are quite active in all sports. There has been tremendous changes, but the game is not over. There is still a lot of prejudice."
Copyright 2018 The Lawrence Journal-World. All rights reserved. This material may not be published, broadcast, rewritten or redistributed. We strive to uphold our values for every story published.