Brunswick, Maine — Marc LaPierre spared no comfort when he chose his home-on-the-road: His RV is outfitted with a central vacuum.
"There's nothing in there that I don't have at home," said LaPierre, 59, who so likes his king-sized bed that he sometimes finds himself sleeping in it, even when he and his wife stay at their lakeside home in Quebec.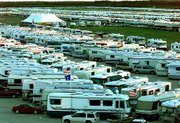 The older generation aside, baby boomers helped push recreational vehicle sales to a 21-year high last year. Sales are on track to surpass last year's figures despite this summer's high gasoline prices.
And there seems to be no end in sight, industry officials say.
Baby boomers are finding they can hit the road with all the amenities of home, including washers and dryers, tile and hardwood floors and stereo surround sound.
"It just boggles my mind to see so much money out there," said Diane Doyle, 53, of Westford, Mass., who worked her way into a top-of-the-line, $300,000 motor home 10 years after getting started with a pop-up trailer in 1980.
Some well-heeled vagabonds have sold their conventional homes and live in their RVs year-round, traveling wherever the spirit moves them and picking up mail at various drops along their route.
Nationwide, the average age of RV owners has dropped to 48 while ownership has climbed to an all-time high at 9.5 million, according to the Recreation Vehicle Industry Assn., based in Reston, Va.
'Full-time' roadsters
About 1 million of the RVs belong to so-called "full timers," hundreds of whom traveled to the Brunswick Naval Air Station recently for the 37th Family Motor Coach Assn. convention an event so big that the Navy base closed its runways, sent its planes to Bangor and allowed 7,422 motor homes to move in.
In all, 20,000 people attended the convention and the total number of coaches hit an all-time high, said Robbin Gould, editor of Family Motor Coaching, the official magazine of the Family Motor Coach Assn.
The land yachts were far from spartan, equipped with full-sized refrigerators, dishwashers, VCRs and televisions.
Marc Darby, 63, a retired risk manager from St. Lambert, Quebec, had a full-sized gas grill stowed in the belly of his 37-foot rig. He also had a laptop computer and satellite dish.
Standard equipment in most RVs includes roof-mounted air conditioners, generators and water reservoirs large enough to last for days.
The most expensive units, which can cost upward of $1 million apiece, have marble floors and leather furniture. Some even have flat screen televisions that drop from the ceiling at the push of a button.
Sales speed up
Sales of RVs including travel trailers, camper trailers, truck campers and motor homes were up 10 percent last year, and the total value jumped 24.6 percent, driven by demand for expensive amenities, said Jeff Beddow, spokesman for Recreation Vehicle Industry Assn.
So far this year, motor home sales have dropped 5 percent from last year's pace, but the RV industry overall was up 2.3 percent through June thanks to strong demand for units that can be towed, he said.
Interest rates may have had an effect on sales of expensive motor homes, but gas prices do not influence sales, Beddow said. The largest units can hold 150 gallons, meaning it would cost several hundred dollars to fill them up, whether its with gasoline or diesel fuel.
Copyright 2018 The Associated Press. All rights reserved. This material may not be published, broadcast, rewritten or redistributed. We strive to uphold our values for every story published.