Alan Detrich is on a mission to improve the state's image, and he thinks he can do it with the support of schoolchildren and the 85 million-year-old fossil of a prehistoric fish.
The Great Bend man wants the state to adopt an official fossil as one of its symbols. He favors the Xiphactinus, a large, toothy fish once common in western Kansas when the region was covered by an ocean. It sometimes is referred to as the X-fish.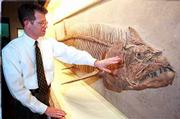 But first, Detrich, a paleontologist, has a bone to pick with the Kansas State Board of Education the same board he believes tarnished the state's image a year ago when it voted to de-emphasize evolution on standardized tests given to Kansas public schoolchildren.
Detrich wants the board to endorse the X-fish proposal before it goes before the Kansas Legislature in January.
"That would really send a message that Kansas has finally got things squared away," Detrich said in a recent telephone interview from his home.
Moreover, Detrich said that the fossil of "the largest bony fish ever" could be used to tout Kansas as a wild game state and promote its early history.
"This would be an appropriate fish," he said. "It would be a great symbol to promote Kansas as a hunting and fishing state.
"It would also show the need to protect the environment," he continued. "We can't do without water and air, or we'll end up like the X-fish."
Well-known bones
Detrich discovered the fossilized bones of a 12-foot-long Xiphactinus in western Kansas. He operates a business called Detrich Fossils and received publicity earlier this year when he placed the skeleton of a Tyrannosaurus rex on the market for millions of dollars. No one has bought it.
One of the more noted Xiphactinus fossils is on display at the Sternberg Museum of Natural History at Fort Hays State University. The fossil is known as the "fish within a fish" because the bones of a smaller fish swallowed by the Xiphactinus can be seen.
A 16-foot long Xiphactinus found in Kansas is on display at Kansas University's Natural History Museum.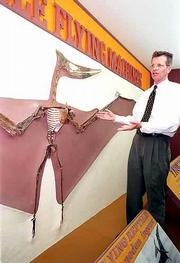 Last spring, after talking about the Xiphactinus at a Great Bend grade school, students launched a petition drive supporting the state fossil quest. Other schoolchildren across the state have since added their own petitions. Detrich wasn't sure how many names are on the petitions.
"That's what makes this fantastic the support of the schoolchildren," he said.
Harold Voth, chairman of the state board, said he received information about the proposal from Detrich but hadn't yet studied it. Voth was one of the board members who voted to downplay evolution.
Other picks
Two paleontologists at KU's Natural History Museum see nothing wrong with having a state fossil, and they don't necessarily oppose the Xiphactinus.
But Larry Martin and Dave Burnham say dinosaur fossils are more common in eastern Kansas, which was not covered with water millions of years ago.
Burnham said he favored the Silvisaurus, which he described as an "armored, tank-like dinosaur."
Martin spoke up for the Pteranodon, which was a flying reptile.
"I think it's sexier than the Xiphactinus," Martin said.
State Rep. Tom Sloan, R-Lawrence, wasn't impressed with any of the suggestions. He noted that in recent years the Legislature has avoided adopting any more state symbols.
"I don't doubt the sincerity, but we have more important things to do," he said. "We have a state soil (Harney silt loam) and a state fish (channel catfish), and I don't think they promote Kansas."
Copyright 2017 The Lawrence Journal-World. All rights reserved. This material may not be published, broadcast, rewritten or redistributed. We strive to uphold our values for every story published.