When Mary Ann Puckett sets up her tent Sunday at Lawrence's 21st Annual Fall Arts and Crafts Festival, it will be her first show on the crafts circuit.
The retired grandmother wanted to make a gift for her granddaughter a few years ago, and decided to make a doll's dress for the child. She wanted a sophisticated look for the toys, and her designs proved so popular with family and friends that she's now selling them.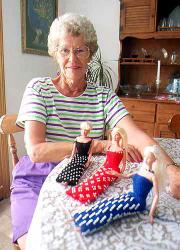 "It's a lot of work, but I enjoy making things I know little girls will love," Puckett said.
The designer strives to create glamorous images for plastic playthings. She makes dresses and accessories for dolls like Barbie, adding beads by hand to give each dress style and class.
She got the idea from a New Year's Eve party that she and her husband, Norman, attended. Marveling at the evening gowns on display, she thought she could redesign dolls' dresses to look the same way.
"I thought, 'why can't I do that?' That gave me the idea and I figured it out and I've been making them ever since," Puckett said.
To create a Puckett original, she designs her own patterns. She strings beads onto yarn and then crochets the material. She can do about a dress a day, and has created 100 gowns so far. Her new business venture is taking up a lot of her time.
"I thought I'd have plenty of time to do things, and now I'm swamped," she said with a laugh.
Puckett said she has something for all Barbie owners to choose from.
Her dresses come in all colors, and feature strapless, backless and spaghetti strap styles. Each gown is tailored to make the doll look both elegant and modern.
Puckett and her husband have always enjoyed attending craft fairs, but this is her first try as both a craftswoman and businesswoman. She loves what she designs, but she'll love it even more if they all sell on Sunday.
"I hope they sell or my granddaughter and nieces will get a lot of (dolls') dresses for Christmas," she said with another laugh.
A day at the fair
Lawrence's Fall Arts and Crafts Festival has developed a national reputation, and draws exhibitors from several states, including California, Texas and New Mexico.
Parks and recreation officials estimate 100 to 120 craftsmen and artisans will be on hand, hawking everything from paintings and jewelry, to baby blankets, clothing and small wood furnishings. All materials must be hand-made.
Several children's activities are planned including train rides, a moon walk and a paint and play pen. The event also features music, dancing and food concessions.
Copyright 2018 The Lawrence Journal-World. All rights reserved. This material may not be published, broadcast, rewritten or redistributed. We strive to uphold our values for every story published.